Acquire Panama residence with purchase of a luxury apartment on an island in Panama City
Hurry up to acquire residence in Panama while this opportunity exists! The wealthier people have a unique chance to invest into deluxe real property located on an island in Punta Pacifica district of Panama City. As the owner of real estate in Panama, you will be entitled for a permanent residence permit in this country.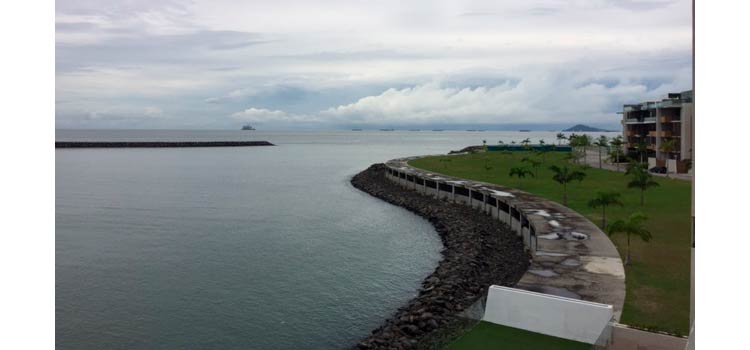 Advantages of Panama visa programs over those of other countries
Living in most European countries is quite comfortable but they levy high taxes on their citizens. European businesspersons are the first category of people to acutely feel the heavy weight of their tax burden. Some of them would love to carry a lesser burden and they are looking to change their tax residence. Fortunately, there are a few jurisdictions that offer tax preferences to foreign investors thus allowing them to optimize their taxes.
Such jurisdictions can be found in Europe: you can consider relocating to Malta or Cyprus, for example. In the Middle East, the United Arab Emirates offer quite inviting conditions to business people wishing to establish their tax residency there. However, moving to these destinations will require one to over two million euros in investments. Besides, immigrating to these countries will require making some irrecoverable 'donations' to the state budgets that can be thought of as immigration fees.
If you are thinking of changing your domicile in order to optimize your taxes, we invite you to consider Panama as a very healthy alternative to the jurisdictions mentioned above. Unlike other countries trying to attract foreign investors by offering a single 'golden visa' program, Panama has a wide array of immigration programs. What is important is that relocating to Panama and acquiring tax residency there is much less expensive than moving to Malta, Cyprus, or the UAE.
Three major factors make Panama affordable for a large number of current residents of the economically developed countries. First, neither of this country's immigration visa programs involves any irretrievable payments. Each program requires some investment but you will be asked to either purchase property in Panama or keep the money in a bank for a fixed term or start a business in the country thus making a profit from your investment.
Second, you do not have to be a millionaire to make use of one of the immigration programs that Panama offers. One such program does not require any initial investment at all. Other visa programs will require investments between US$ 100,000 and US$ 300,000.
Third, the cost of living in Panama is still significantly lower than the cost of living in Europe or North America. Some goods and services are priced twice as little in Panama as they are in the first world countries. At the same time, their quality comes up to the high European and American standards. For example, Panama imports very little food as the agricultural sector is very well developed in this country. The fact that Panama is able to live on the food it produces makes food items inexpensive and they are healthy and good to the taste.
Let us briefly describe three of the multiple Panama immigration programs that will look especially attractive to a middle-class citizen of a European or North American country.
The "Economic Investor" visa
In order to acquire an Economic Investor visa that provides for permanent residence permit in Panama you have to bring US$ 300, 000 to the country. This does not mean that you have to pay this sum for residence in Panama: you can recover the money after a few years and even make a profit from your investment. There are three ways you can invest into the Panamanian economy:
Open a US$ 300,000 account in one of the two National Banks of Panama. A bank statement certifying that you have this sum of money in a three-year fixed-term account will make you eligible for applying for permanent residence in Panama. You will lose the permit in case you cancel the agreement with the bank and close your account before the three-year term expires. However, after three years you can withdraw the whole sum with interest while preserving the residence permit.
Purchase real estate in the country that is worth US$ 300,000 or more. A purchase agreement certifying that you are the owner of the piece of real estate will make you eligible for applying for permanent residence in Panama. If you buy a house or an apartment, you can stay there on your visits to Panama or just live there. Selling the property after a few years will definitely bring you some profit as real estate prices are stably growing in Panama.
Make a mixed investment: purchase a piece of real property worth less than US$ 300,000 and put the rest of the sum in the bank. In this case, you will have to collect two certification documents in order to apply for residence but this is not going to cause much trouble especially if you apply for our assistance in obtaining the residence permit. The important thing is that your combined investment has to amount to the sum specified above.
Citizens of any country can apply for the Economic Investor visa in exchange for a medium-size investment into the Panamanian economy. If you want to learn more about this immigration program, please click here.
The "Friendly Nations" visa
There are fifty world countries whose citizens are most welcome to come and stay in Panama. This means that they are given the easiest access to the country, have to meet the lightest investment requirements and go through the simplest application procedure.
You can find the list of Panama fifty friendly nations and read more about this program if you follow this link. In brief, this immigration program requires that you have either a place to stay in Panama or a job in this country or otherwise you are engaged in some economic activities, that is, you run a business company in Panama.
In case you come from one of the fifty states and want to acquire a residence permit in Panama via purchasing a living accommodation, it has to be worth at least US$ 100,000. Plus you have to have US$ 5,000 in a bank account.
As far as employment in Panama is concerned, the country is developing very fast and it is on the search for qualified specialists. There are some employment areas that are accessible to locals only but a well-trained foreigner will certainly be able to find a job in Panama especially if he or she speaks Spanish, which is the official language in this country.
To those citizens of Panama's friendly nations who have an entrepreneurial spirit the country offers a wide spectrum of opportunities. Doing business in Panama is easy as the legislation is quite transparent and the taxes are far from draconian. Besides, the business investment amount is not specified with the Friendly Nations immigration program.
Both the Economic Investor and the Friendly Nations visa programs allow bringing your family to Panama with you. There has to be one primary program applicant but he or she can have several 'dependents' that will be listed in the application form. A small additional investment is required in case you are bringing dependents but the sum is negligible.
The "Pensionado" visa
This immigration program is especially popular with many US and some Canadian pensioners. The reason for that is simple: the program requires no investment at all. All you have to do is prove that you have a stable source of income that amounts to US$ 1,000 a month. Moreover, if it is a married couple of retirees moving to Panama, they have to show that their combined monthly income is at least one thousand dollars.
It is not surprising that Americans and Canadians love spending their golden years in Panama. Their monthly pensions are normally higher that the required sum, which puts them among the wealthy in this country. And the climate in Panama is certainly much better than in the Northern half of the United States and in Canada.
There is also a variation of the Pensionado visa program. If you buy a piece of property in Panama that is worth US$ 100,000 or more, you will have to prove that your guaranteed income amounts to US$ 750 a month. This is because if you have a place to stay in the country, seven hundred and fifty dollars will easily see you through the month. The average salary in Panama is less than US$ 800 a month, which means that a large number of people in the country survive very well on much smaller monthly incomes.
Unlike with the Friendly Nations visa program, a citizen of any country can apply for the Pensionado visa. As a matter of fact, the applicant does not even have to be a retired person. Anyone over 18 years of age able to demonstrate a steady monthly income is eligible to apply.
You can read more about the Pensionado immigration program if you follow this link.
Acquiring citizenship of Panama
All the immigration programs briefly described above provide for permanent residence permit. All of them also lead to full Panamanian citizenship after five years of residence in the country. (The Pensionado visa program did not allow becoming a Panama citizen before but now it does even though pensioners do not usually bother to change their citizenship.)
It is important to note here that the necessary amount of time the foreign resident has to physically spend in Panama is not specified in the national legislation. This is where Panama differs from some other countries that require that a foreign resident actually live in the country for a set period of time if he or she is to become its citizen one day.
At the same time, the Panamanian citizenship is not granted automatically to anyone who has held a permanent residence permit for five years. You become eligible for applying for citizenship after five years but the state immigration authorities will consider each applicant individually. They will evaluate the degree of his or her integration into the Panamanian society and especially his or her involvement with the country's economy.
You will have to demonstrate that you belong in Panama: you have real estate in the country where you reside with your family, you have a business company there or hold a job in a Panamanian company, you have bank accounts in Panamanian banks, you are participating in an investment program in the country, and so on. If you are able to show that you have serious economic interests in Panama, you have very good chances to obtain the full citizenship there.
In case your application is turned down, you are free to reapply next year. There are no limits as to the number of recurring applications for Panamanian citizenship.
The actual time you spend in Panama is not so important for retaining the permanent residence permit. Most Panamanian lawyers say that visiting the country once every two years and staying there for a week or so will suffice. However, if you are planning to apply for citizenship later, you will be well advised to come to Panama more often and stay there over longer periods of time.
It also has to be noted that Panama does not accept dual citizenship. When you become a citizen of this country, you are required to make an oath of renunciation of your previous citizenship. This is just a formality, however. Nobody is ever going to check if you have really forsaken your home country citizenship or not. As far as the authorities of your home country are concerned, an oath you make to the government of a foreign country is totally irrelevant to them. It simply does not count, from the legal point of view. Thus, you can fully enjoy dual citizenship that you will have de facto.
Important benefits that Panama offers to its residents
There are black and grey lists of countries that the world financial authorities consider "offshore" jurisdictions. Panama's international reputation is stable now: it has been off all such lists for quite a while already.
Panama is an important point on the world map thanks to its geographical position. It is the only country in the world that has terminals both in the Atlantic and in the Pacific Oceans. The Panama Canal plays a significant role in the world trade and its exploitation is the major source of income to the Panamanian state budget.
Registering a merchant ship or a private yacht in Panama thus acquiring its state flag brings many advantages to the ship owner.
Panama practices territorial taxation.
All the incomes derived by Panamanian citizens and residents (physical or legal entities) from commercial or other activities performed abroad are not taxable in Panama.
Those residing in Panama and doing business internationally also do not have to submit tax returns. The only thing that the Government requires is keeping the accounts and storing the records for the last five years in the company headquarters. There are also several Free Trade Zones in panama that provide preferential taxation conditions to their resident companies.
The American dollar enjoys an official status in Panama and is in free circulation there.
Panama is a politically stable country. There is no racial discrimination there, nor civil unrests, nor terrorist attacks.
The country's economy has been stably growing by 5% to 6% annually over the last two decades.
Panama is the largest financial center in the Caribbean region and one of the leading such centers in Latin America as a whole. There are close to one hundred international banks operating in the country today. Panamanian banks have high levels of capitalization and liquidity.
The laws of the country effectively protect foreign investments. Both Panama natives and foreign residents enjoy the same level of asset protection.
Panama offers a large number of immigration programs. Each such program is designed to appeal to a certain category of people, which makes Panama attractive to many immigrants.
The quality of the real estate in Panama meets the highest international standards while it still sells at considerably lower prices in comparison to those in Europe or the USA. Elite houses and luxury apartments enjoy especially high demand with foreign investors.
How does acquiring real property in Panama lead to residency?
Purchase of real estate in Panama is not only one of the best ways to diversify your assets and make yourself more mobile but it is also a great chance to drastically improve your lifestyle.
Ownership of a piece of real property in Panama serves as the legal basis for obtaining permanent residency in this country. A resident of Panama, you can open an account with a Panamanian bank in dollars, euros, or any other hard currency and gain access to the world financial resources.
Having bought a house or an apartment in Panama you will be eligible to a five- to twenty-year property tax exemption depending on when the building was constructed or renovated.
In addition to that, the law "On Family Property" passed in January 2019 has increased the worth of untaxable real property from US$ 30,000 to US$ 120,000.
Luxury apartment on an island in Punta Pacifica district, Panama City
We invite you to consider buying a truly luxurious apartment in a building that is still under construction. It is located on an artificial island in one of the most prestigious districts of Panama City called Punta Pacifica.
The interior decorations are made in different hues of grey. The high-tech 'smart home' solutions have been used for electricity, natural gas, and water supply.
The 'smart home' system allows optimizing the use of all the available resources thus minimizing the maintenance costs. The system control can be performed form a smartphone or tablet and its functionality can be upgraded.
The apartment building is of several stories. There is one cargo and two passenger lifts and one main entrance in the building. There are social areas and a gym on the ground floor. Below is a car park for twelve cars. A yacht club with a pier is going to appear near the building soon so you can anchor your yacht right next to your place of residence in Panama.
The total area of the apartment is 988 square meters (1181 sq. yards). It is a duplex apartment having two floors.
First floor – 548 square meters (698 sq. yards). It has the following rooms and facilities:
Five bedrooms and five bathrooms. The apartment has double-pane insulated windows overlooking the east coast and the "Old City". The ceilings are 3.5 meters (3.8 yards) high.
A living room.
A kitchen.
A laundry room.
A guest bathroom.
A balcony.
Four parking lots are reserved for the residents of this apartment.
Second floor – 440 square meters (526 sq. yards).
Sheltered rest area 40 square meters (47.8 sq. yards) large.
Open terrace of 400 square meters (478 sq. yards) with a swimming pool, barbeque area, sunbathing area, and so on.
As the construction of the apartment has not been completed so far and some more interior decoration and other things are required, the developers have two options for the prospective buyer:
Purchase the apartment while it is unfinished and complete the construction work yourself.
The price of the unfinished apartment is US$ 3, 000, 000.
Wait until the apartment is turnkey ready with hues of grey interior decorations.
The price of the turnkey ready apartment is US$ 3, 600, 000.
Conclusion
The Panama resident status will open wide perspectives to you in terms of business investments and moving around the world. But in addition to that you will find that this country has just a perfect climate and a modern infrastructure.
Living in Panama you can enjoy fantastic sandy beaches on both the Atlantic and the Pacific coasts. Panama City is the only city in the world where you can go for a swim in the two oceans on a single day. You will also be amazed to see the wild exotic tropical nature in Panama.
On top of that, the Panamanian healthcare system is among the best in Latin America. At the same time, medical attendance costs several times less than it does in the USA and other developed countries. This fact makes many Americans, Canadians, and Europeans come to Panama as 'medical tourists', that is, with the purpose of having medical examinations and treatment.
If you are planning to move to Panama with your family and you have children, we can recommend some prestigious schools to you where your kids will receive world-class education services.
What makes applying for our services especially reasonable is the fact that our company has an office in Panama. Thus, our on-site specialists will have the truest and the most up-to-date information about the real estate on offer in the country. We will show you the best pieces of property that you can buy at the lowest prices.
If you have already decided to relocate to Panama or if you are only considering this possibility, please contact us via e-mail [email protected], and ask us any questions related to acquiring permanent residence in Panama. We will be happy to provide a free consultation to you on this issue.