An apartment in Panama with the view of the ocean: a valuable asset and a second residency place
An apartment in Panama City is not only a secure investment object but also a chance to acquire a second residence in a warm country. A Panama permanent residence permit will open a number of new opportunities to you.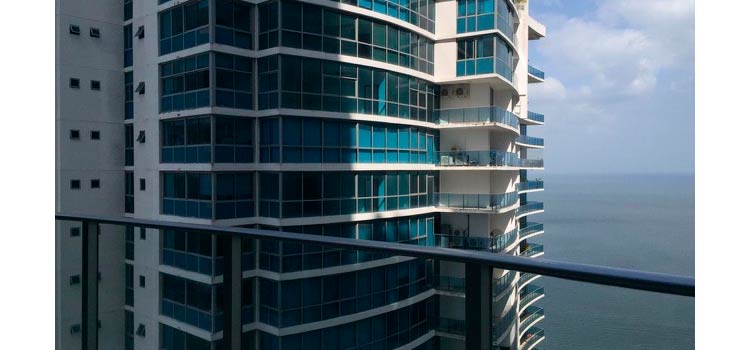 An outdated image of Panama
Some businesspersons will frown in distrust when Panama is mentioned as a jurisdiction offering tax optimization. Some will also remember the rather recent "Panama Papers" scandal and associate the country with "dirty money". The truth is, however, that today Panama abides by all international financial regulations and it has been scratched from all black and grey lists. It is a perfectly clean country to invest in and it simultaneously offers considerable tax incentives that are hundred percent legal.
It is high time you rid yourself of all the misconceptions about Panama and realize that the "Panama Papers" scandal was a well-planned mud-slinging campaign initiated by large economies to discredit this small but very successful Central American country.
Why was Panama chosen as a scapegoat?
Many large states had been very much vexed by the fact that Panama attracted international businesses by offering comfortable conditions to them. In so doing, Panama distracted capital from those large countries so their irritation was quite understandable. For that reason, they launched a blackening campaign against Panama.
George Soros, the notorious billionaire and financer who wrecks financial havoc in the country that he comes to, played a pivotal role is organizing this campaign. (Some countries such as Israel, Thailand, Hungary and others believe that George Soros and his foundations are their public enemies.) The Panamanian law firm Mossack Fonseca & Co was an ordinary company providing legal and consulting services internationally. There are dozens and dozens of other such companies in Panama. Soros had planted moles in Mossack Fonseca before 2016 and they stole the documents that were later published in the media.
Big waves were artificially created in the international mass media giving large economies a seemingly legitimate reason to strengthen the measures against tax evasion. In reality, they wanted more taxes paid to their budgets, not the budgets of other countries.
At the same time, not a single stolen document that was published in the press revealed any violations of international laws. They only stated the facts that certain commercial operations had been conducted.
All this Panamanian ballyhoo was based on guesswork and invented facts. However, the wealthy people whose names were mentioned in the newspapers were all classified as tax evaders.
In this way, many countries received an opportunity to try and reduce the capital flow to Panama and redirect it to their own budgets.
As you have probably noticed, after the "Panama Papers" hullabaloo, the European Union and the OECD stared changing the standards quite rapidly in order to limit the capital outflow to offshore zones. Panama Papers only served as a pretext for the so-called 'fight against off-shores'.
The main goal of this information campaign was to threaten international businesses and investors, turn them away from offshore jurisdictions and make them leave more capital in the countries of their legal residence.
However aggressive this mud-slinging campaign was, it did not lead to the inclusion of Panama into a black or a grey list that contains the countries violating some international regulations. Shortly speaking, this dirty defamation campaign against Panama was launched with the single goal to redirect the world financial flows. But Panama appeared able to stand up against large countries and today it proves the correctness of its economic policies by huge success and stable development. Here are some facts that confirm this statement:
Over the last fifteen years Panama GDP has grown by 6% annually on average. There have been years when the growth constituted as much as 12%.
Panama does not tax internationally-sourced incomes that its citizens and legal residents receive.
In terms of the capital volume, the banking sector of Panama is second only to that of Switzerland. The level of Panamanian banks capitalization is manifold higher than that of many banks in the First-World countries.
The assets and the rights of foreign residents in Panama are under the protection of the national legislation. It shields those from any encroachments of any third parties including national states. Court decisions made in foreign jurisdictions have no legal force in Panama and thus they are disregarded by Panamanian judges.
Today Panama is not an offshore country as the Government has fulfilled most of the conditions put forward by the EU and the OECD. Panama has been off the black list for a long time now, and it has also been scratched from the European Union grey list after changes to the legislation have made tax evasion a criminal offence in the country.
What is so beneficial about residence in Panama?
Even though Panama is located close to the United States of America (you can fly there from Miami in less than three hours), it is quite far away from Europe. Those Europeans who are looking to change their domicile can consider moving to a closer country such as Cyprus, Malta, or Monaco, for example. These national states also have 'residence for investment' immigration programs but the matter is that relocating there will cost considerably more than relocating to Panama.
The investment that is necessary to immigrate to Cyprus starts at 500,000 EUR + VAT (per each applicant). This is the minimum sum that the newcomer has to spend on buying real property on Cyprus. Every legal resident in this country must have a residential accommodation there, according to the immigration authorities' requirements. In addition to that, to retain the permanent residence status, the foreign resident has to keep the ownership of the residential accommodation until the end of his or her life. (He or she can sell other real property that s/he buys, though.)
However, the sum indicated above is never sufficient to legally reside on Cyprus. The total required investment will come to 2 million Euros eventually. This includes an irretrievable donation to the national budget of 150,000 EUR.
As far as Malta is concerned, it will cost you about 1 million Euros to immigrate there. As for Monaco, the immigration price starts at 2 million Euros. Moving to Panama, on the other hand, will be much less expensive.
Visa programs that allow obtaining permanent residency in Panama
The total number of immigration programs that the Government of Panama offers often changes as new such programs are added and old ones abandoned. But they are numerous indeed, unlike with most countries that usually offer one or two immigration possibilities. Currently, Panama has about fifty visa types but we will focus on those that look most attractive for a middle-class investor from Europe, Asia, or the Americas. All these visa programs will provide for permanent legal residence in Panama and lead to full citizenship of the country via naturalization after five or seven years. You can read more about these immigration programs if you click on the corresponding links.
Panama "Economic Investor" visa program
This is the most expensive immigration program of those that we are going to describe here. (And you can compare its cost to that of immigrating to the European countries mentioned above.) It requires that you invest minimum US$ 300,000 into Panama. If you do so, you will be granted a two-year temporary residence permit that will be replaced by a permanent one afterwards. After five years of permanent residence in Panama, you are entitled to apply for full citizenship of the country.
It is possible to make the investment specified above in three different ways:
First, you can put this sum of money in the bank for three years. The interest on this deposit will be at your disposal during this period and after three years you can close the account if you wish while keeping the permanent residence permit.
Second, you can buy real property in Panama such as a residential estate, for instance, that is worth US$ 300,000 or more. This will suffice for obtaining the residence permit. You do not actually have to live there: you can rent your property out thus gaining a stable income. After you acquire the permanent resident status, you can sell your real estate. In all likelihood, after several years its price is going to be higher than the one you paid when buying it.
You can do both of these things – buy property and open a bank account. The important thing is that your total investment has to amount to US$ 300,000 minimum.
Panama "Business Investor" visa program
This program will provide for a temporary and then permanent residence permit on the condition that you invest at least US$ 160,000 into a business in Panama and hire five Panamanian citizens for the jobs. You can set up a new company as registering a business corporation is rather simple in Panama. Or you can buy an existing business if you like. If you have an entrepreneurial spirit, you will find that doing business in Panama is very comfortable and can be quite lucrative as well.
Panama "Friendly Nations" visa program
In contrast to the two immigration programs described above, this one is not for everybody. Only the citizens of fifty national states that the Panamanian authorities consider friendly to Panama can obtain this type of visa.
The top fifty countries of the world are on the list of Friendly Nations and obtaining a permanent residence permit in Panama with this immigration program is as easy as squeezing a lemon.
All you have to do is put US$ 5,000 in the bank and assert that you plan to set up a private business or find a job in Panama. That is to say, you do not actually have to have a business or employment in Panama but only say that you intend to acquire either one or the other. An alternative option is buying real property in Panama that is worth at least US$ 100,000. In case you do this, you will not even have to lie that you are going to open a business company or find a job in the country! The property and the five thousand in the bank will make you qualified for permanent residency in Panama.
Citizens of Panama's friendly nations are granted a 180-day legal stay in the country automatically, while processing their applications for a permanent residency takes about 100 days or a bit more. The five-years-of-permanent-residence-leading-to-citizenship rule applies too. Thus, you can come and stay in Panama if you are fortunate enough to be a citizen of one of the fifty states.
Panama "Pensionado" visa program
This immigration program is especially attractive for the retired citizens of hard-currency countries. It requires that the applicant shall have an inalienable stable monthly income of US$ 1,000 or more. If a married couple of retirees are applying for residency in Panama, their combined income shall be not less than one thousand a month. If the program applicant purchases real estate in Panama worth US$ 100,000 or more, his or her monthly income shall constitute US$ 750. (This is reasonable: if you have a place to live in Panama, seven hundred and fifty dollars will see you through the month easily. You are not going to live like a king on this sort of income, but you will be able to afford everything that is necessary.)
These are the most enticing immigration programs that Panama offers even though there are other such programs as well. From the brief descriptions above it is easy to see that immigrating to Panama will cost much less than moving to a European country.
Panama real estate sector
Europe is currently suffering from inflows of immigrants from the Middle East and the Brexit problem adds to the troubles too; the US stock market is on the fall; Latin America is witnessing political duels… And Panama is stable and growing!
The situation in Panama real estate market is indicative of the overall economic growth in the country. Today this market is entering a new phase when more and more foreigners want to purchase property in Panama. Some buy residential accommodations to live there with their families or otherwise stay there on their visits to Panama. Others buy property for commercial purposes.
Panama is also becoming more and more popular with tourists and pensioners. Foreign businesses are actively relocating to Panama as well. There they find considerable tax incentives, new perspectives for development, and effective protection of their assets.
The most attractive characteristics that Panama boasts are the warm summer all around the year, the low cost of living and high living standards simultaneously, tax benefits, high quality inexpensive medical care, and low crime rates. What makes the country attractive for investments in particular is the presence of Free Trade Zones on its territory, a strong banking sector, and a thriving economy that is based on the US dollar.
The Constitution of Panama allows foreigners to buy land and property in the country. However, buying property within 10 miles (16 kilometers) from the national borders with Columbia and Costa Rica is prohibited to foreign nationals.
Those who would like to invest into residential property in Panama will find a large choice of houses and apartments. As many other megalopolises, Panama City is growing rapidly. But it is not growing out but rather up. Over the last fifteen years, a large number of skyscrapers have been erected in the capital city of Panama. They are usually run as hotels or condominiums or a mixture of the two and you can find some fantastic apartments on offer in these high-rise buildings.
These are the city districts most popular with foreigners in Panama City: Marbella, Coco del Mar, Paitilla, Punta Pacifica and San Francisco. We would like you to consider purchasing an apartment in one of these districts.
An apartment with the view of the Pacific Ocean
Many Panamanian developers seem to be fond of building skyscrapers with apartments that have high ceilings and floor-to-ceiling windows. Such windows do make good sense when they give views as fantastic as the apartment on offer does. This architectural style is especially appreciated by people between 28 and 35 years of age who value fashionable and artistic decorations.
The apartment we are describing is fully furnished and equipped with all the household appliances. This stylish and luxurious duplex (two-level) apartment can become a comfortable place where you can stay with your family.
The total area of the apartment is 175 square meters (1884 sq ft). There are:
An open-space kitchen with a breakfast bar and adjacent living- and dining-room.
Two bedrooms.
Two bathrooms.
Two parking lots are reserved for the owners of this apartment in the underground car park beneath the building.
The house residents can make use of the concierge service, the gymnasium, and the swimming pool on the premises. A private security firm provides for 24/7 security surveillance.
The price of the apartment is US$ 420,000
If you would like to see this apartment with your own eyes and check the views from the windows, you are welcome to join us on a familiarization tour to Panama that will let you have a glimpse of the wonders of this tropical country and look at various types of real property for sale.
It has to be admitted that the modern world is not a stable place to live in. Countries in Europe, Asia, or America are far from being immune to political and/ or economic collapses as you can see if you watch the evening news. There are a few safe havens, however, where you can live securely and peacefully, and Panama is one of them without any doubt. Make it your second home and never worry again.
We should note that retaining a permanent residence status in Panama is quite easy. It will be enough to pay a visit to the country every two years and stay there for a week or a bit longer and you will keep your residence permit.
As far as acquiring permanent residency in Panama is concerned, we suggest that you should apply for a free consultation with us on that matter. We will also be happy to answer all your questions about Panama if you write to us to [email protected]. We will do out best to assist you in making the best choice!