Becoming a tax resident in Panama will lessen your fiscal burden
Countries with a high level of social security are also known for the high taxes they charge. There are places in the world, however, where the living standards are almost as high as they are in Western Europe of North America while the tax burden is lighter. Acquiring tax residency in Panama you will not only pay less in taxes but also find a new homeland with a perfect climate.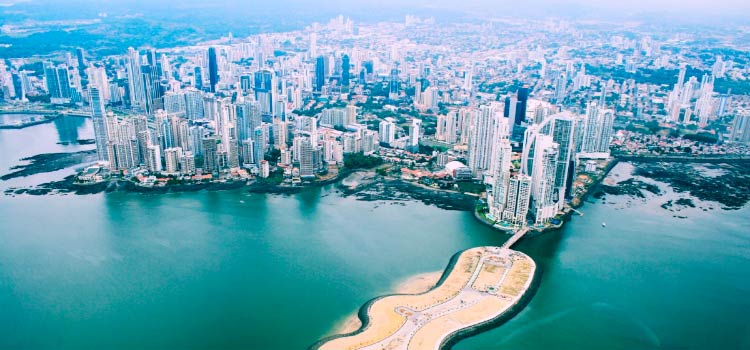 Benefits of Panama tax residence
In order to become a tax resident of this country you have to obtain a temporary and then a permanent legal residence permit. It is quite easy to do so in the case of Panama.
Once you have acquired the status of Panama legal resident, you automatically become a tax resident in this country as well.
Panama uses the "territorial" taxation principle, which means that all profits received by Panamanian citizens and residents from international business deals are not taxable in Panama. Only the income made within the country's geographical borders is taxed.
Panama is among the fastest developing countries in Latin America. Even though its economic growth has been a bit slower over the last two or three years than it was before, Panama GDP continues to grow by 6% annually on average during the last twenty or so years.
Even though the living standards have improved greatly in Panama in comparison to a few decades ago, it still qualifies as a developing country. Thus, the Panamanian government is eager to attract foreign investments. This makes it pass laws that effectively protect the rights of investors coming to the country from abroad.
Besides, lack of qualified personnel remains one of the most pressing issues in the Panama of today. For this reason, the Government is also interested in attracting skilled professionals in different fields by offering them enticing work conditions.
The state authorities in Panama are determined to combat poverty and continue to develop the country's economy. They realize that foreign investments and foreign specialists are badly needed to make these goals achievable. Thus, Panama offers an array of immigration programs that are designed to attract capital and skilled workers to the country.
In comparison to the immigration programs that other world countries have, Panama offers a considerably larger choice of such programs. There are several investment visa programs that you can choose from to find the one that suits you best.
Panama compares favorably to other developing countries in terms of its living standards. As a matter of fact, the living conditions there are almost equal to those in the developed countries. At the same time, all the amenities of the modern world are accessible in Panama at much lower prices.
In addition to that, the application for residence procedure takes less time in Panama than anywhere else (of course, we are talking about the countries worth considering as new places of residence). What makes Panama look more inviting than some of its competitors trying to attract new residents from abroad is the fact that no irrecoverable payments are required to become a Panamanian resident and then citizen.
For example, if you buy a two-week tour to Panama and purchase some real estate while in the country worth a certain set amount of money, you will be entitled to apply for residence permit straight away.
It must be noted though, that making a serious purchase without some legal advice would be onerous and a little unwise. Unless you are fluent in Spanish and know the Panamanian legislation very well, of course. If this is not the case with you, receiving legal advice from a licensed Panamanian lawyer would be a very good idea.
We have an office in Panama City and our specialists can assist you in finding the right piece of property to purchase and keep you from some reckless decisions. Besides, we will undertake doing all the paperwork required when buying real estate in Panama. You have to realize that quite a number of documents need to be made, checked, and/ or collected before you can have a house or an apartment in your lawful possession.
We can help you prepare the full set of documents required for real estate purchase in Panama. In addition to that, we can have a business company registered with the Panamanian authorities on your behalf, and open a corporate bank account for it in any bank in Panama of which there are plenty. Please write to us to info@offshore-pro.info, and place a service request with us. A consultant of ours will promptly be in touch with you ready to answer whatever queries you may have about moving to Panama.
The most popular Panamanian immigration programs
Unlike some other immigrant-seeking countries that have one or two immigration programs, Panama offers dozens of them. Here, however, we will focus on those that are in the highest demand with people from different countries.
"Economic Investor" visa program
This immigration program is designed to attract medium-size investments to Panama. Anyone who invests at least US$ 300,000 into Panama is eligible for a residence permit in this country. There are three ways in which you can make this investment.
Open a fixed-term account in one of the two Panamanian State Banks. The deposit has to be not less than US$ 300,000 and you cannot withdraw any money from this account during three years if you want to retain your residence permit. After three years, you are welcome to use the money again and keep your residence permit.
Purchase real estate that is worth not less than US$ 300,000. The property has to be registered in the name of the primary program applicant. It cannot be registered in the name of a business corporation, a private foundation, or any other legal entity.
Combine purchasing real estate and making a bank deposit. The total amount of investment that you make has to be not less than US$ 300,000. Thus, you can buy an inexpensive accommodation, for example, for a portion of the required sum and put the remaining portion of it in the bank for three years.
Buying real estate in Panama in order to obtain a residence permit looks like the most attractive choice. You will not only have legal grounds to apply for residence but also a place in Panama where you can stay or live with your family.
After the purchase has been confirmed, and the application procedure completed, the primary program applicant and the members of his or her family receive a temporary residence permit valid for two years. After two years, they are eligible for a permanent residence permit on the condition that the ownership of the property is preserved.
After holding a permanent residence permit for five years, the program applicants are entitled to apply for Panamanian citizenship.
Just for the sake of comparison: to acquire Malta residence and then citizenship in exchange for investment you will have to bring minimum US$ 900,000 to the country. If you want to become a resident and citizen of Cyprus, you have to invest more than US$ 2,000,000. Obtaining Panamanian citizenship will certainly come at a lower price than with most other (civilized) countries.
You can learn more about the Economic Investor visa program if you follow this link.
Luxurious property for wealthy people in an exotic location in Panama
Panama is a beautiful country with a vast number of impressive beaches both on the Atlantic and on the Pacific coasts. The total coastline length in this country is 2,500 kilometers (over 1,500 miles) and a large part of it is taken by beaches surrounded by wild and exotic tropical flora. Besides, there are hundreds of marvelous islands – big and small – off the Panamanian coasts.
The property we offer for sale is located in Buenaventura resort, a bit more than 100 kilometers (60 miles) from Panama City, the capital of the country. The resort, in its turn, is located in Buenaventura bay in the Pacific Ocean. 10 kilometers (6 miles) from the resort there is a town called Rio Hato that has an international airport. Driving from Panama City to Buenaventura on Pan-American Highway will take you around an hour and a half.
A new tax law was passed in Panama early in 2019 that regulates taxation of real property in the country. Passage of this law is one more indication of the Government's desire to attract more foreign investments to Panama. Compared to the previous version of the law, the untaxed worth of real estate is four times larger than it used to be before. This fact has already caused a manifold increase in the number of foreign nationals wishing to buy real property in Panama.
The full name of the resort is Buenaventura Golf & Beach Resort. It is famous for its golf course built to international standards and hosting world-class golf tournaments. Golfers love this course because when playing there they can enjoy the fantastic views of the tropical forests, the beaches, and the ocean bay.
There are many restaurants, SPA salons, fitness centers, open-air swimming pools, and other facilities on the territory of Buenaventura resort. All these facilities are located in close proximity to the sandy ocean beach.
A five-star Bristol Buenaventura hotel is placed in the center of the resort. Tourists come there throughout the year. Around the hotel, a number of elite villas are constructed. The area is divided into eight villa quarters (or districts) each quarter having its own architectural style.
A villa of the "Club Estates" type.
The villa of the Club Estates model is located close to holes 17 and 18 of the golf course. The total area of the estate is a bit over 2,000 square meters (almost 2,400 sq. yards). The villa is a two-story building 480 square meters (575 sq. yards) large. The villa has:
Four bedrooms.
A study.
A dining room.
A kitchen.
4.5 bathrooms.
A laundry room with a bathroom.
The villa also has parquet flooring, all the necessary kitchen and house equipment and an autonomous electric generator. The following facilities can be found near the building:
A heated pool.
A bathtub in the fresh air.
Two covered parking lots.
We offer you only reliable information about real property for sale in Panama and the most exclusive estates to buy. You can request information about the property price and ask us any questions related to obtaining residence in Panama by writing to our e-mail: info@offshore-pro.info.
«Pensionado» visa program
Citizens of the US and Canada have been using this attractive offer for many years now. As the name of the program suggests, it is designed primarily for pensioners who have a stable monthly income. However, the lower age limit for the program applicant is actually eighteen years.
Anyone who is older than 18 and who can prove that he or she has a guaranteed monthly subvention of at least US$ 1,000 is entitled for applying for this immigration program. The program is called "Pensionado" exactly because a state pension will usually constitute such a guaranteed subvention.
An additional bonus that the Pensionado visa brings is a large variety of discounts that retirees in Panama enjoy. These discounts can be as high as 50% of the normal price and they are provided for a large number of products and services, including hotels, movie theaters, doctor visits, medicines, airline tickets and many more.
Proving to the Panamanian authorities that you have a steady source of income is the central requirement that the Pensionado program has. (And it is actually the only serious requirement.) For some it may turn out to be the hardest stage in the application process. At the same time, if you are a Western European, USA, or Canadian retiree, you are going to have no trouble at all acquiring a Panamanian Pensionado visa. Immigration authorities in Panama are well-informed about the social security systems that are in place in the abovementioned states, especially as far as Panama's closer neighbors are concerned. Thus, they will know that a Western European or a North American pension does constitute a guaranteed source of monthly income that in most cases exceeds US$ 1,000.
Why should the required minimum guaranteed income be US$ 1,000 a month? Because this sum is more than enough for a living in Panama. Why do Americans and Canadians love using this visa program? First, because their pensions are normally significantly larger than one thousand dollars a month. Thus, when moving to Panama where prices are generally half the prices at home, they find themselves among the wealthier. Second, the climate in Panama is much better than in the Northern United States or Canada. In addition to that, American and Canadian retirees can apply for high-quality medical services in Panama. The healthcare system in the country is praiseworthy indeed, and recently Panama has started to experience an inflow of 'medical tourists' to the country. Yes, people often come to panama with the purpose to receive treatment. The possibility to have good medical service is an important factor to those advanced in years.
You can learn more about the Pensionado visa program by following this link.
"Friendly Nations" visa program
The list of Panama's Friendly Nations includes fifty states that have especially close economic, political, and cultural ties with the country. Almost all the best-developed countries in the world are on this list.
The major benefits of this immigration program is the lowest price of acquiring residency in Panama and the ease of the procedure.
The program is designed to attract both investment and skilled professionals from abroad. You can use the program if you intend to do one of the following when in Panama:
Engage in business activities. If you establish a company in Panama (even a small one) and put only US$ 5,000 into your bank account in the country, you will qualify for a Friendly Nations visa provided you have the 'right' country of origin.
Purchase real property. The Friendly Nations visa program requires that the property the applicant buys be worth not less than US$ 100,000. This is the most modest requirement to the price of the purchased property that Panamanian immigration programs put forward. The US$ 5,000-in-a-bank-account condition holds with this option too.
Engage in professional activities. This is a more complicated method to use with the Friendly Nations program, as a work permit needs to be obtained. In order to be eligible for a work permit you have to have an employment agreement with an employer in Panama. In addition to that, foreign nationals are not allowed to hold positions in some professional fields. The US$ 5,000-in-a-bank-account condition is applicable again. But anyway, Panama does need qualified personnel and people from the fifty Friendly Nations are given the easiest opportunities to find employment in Panama.
After only three to four months since the date of application, the applicant and the members of his or her family will receive a permanent residence permit if one of the central conditions specified above is met. This makes it the fastest way of acquiring the full Panamanian citizenship. Therefore, if you have decided to move to Panama and you come from the country that qualifies for the Friendly Nations immigration program, applying on this this program is what we recommend.
You can find the list of Panama's Friendly Nations and more information about this visa program if you follow this link.
It must be noted that not every resident will be automatically granted Panama citizenship after holding a permanent residence permit for five years. Anyone can apply for it but he or she will have to prove to the authorities that over this period he or she has established economic and personal ties with the country.
Any tangible assets that you have in Panama will count as such proof. An employment agreement with a Panamanian company or a marriage to a Panamanian citizen will also do good service to you in acquiring citizenship in this country.
What makes Panama citizenship even more enticing is that obtaining it does not require any additional investments. (A small state duty you will have to pay can be disregarded.)
Now, the Panamanian legislation does not allow having dual citizenship. However, it is not a problem at all. You will not have to sacrifice your home country citizenship in case you want to establish a permanent legal and tax residence in Panama. When becoming a citizen of Panama, you will be asked to make an oath of renunciation of your original citizenship. But this oath (that is, merely a verbal statement) is going to have no legal effect in your home country. Any national legislation specifies causes that can lead to renouncing citizenship, and an oath given to a foreign government is never to be found among such causes.
If you are interested in relocating to Panama or if you want to learn more about the process of relocation, please do not hesitate to contact as via e-mail: info@offshore-pro.info and request free consultation with us. Our experts will be happy to answer all your questions.