Investing into Panama real estate as a way of obtaining permanent residence in the country
Investments into real property in Panama is a sure way to protect your capital and simultaneously acquire residence in this beautiful and prospering Latin American country.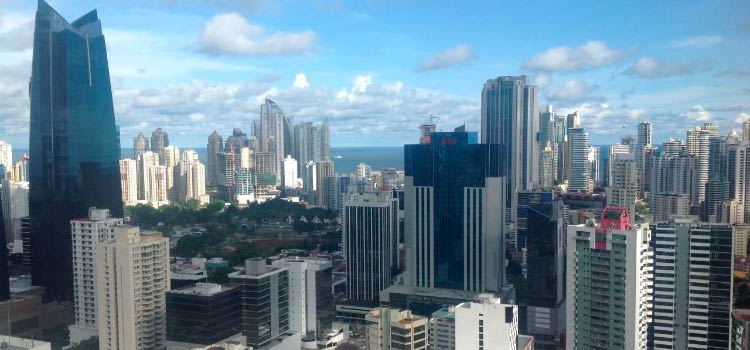 Why is Panama often referred to as Latin American Singapore?
Panama is the country that a potential business investor ought to consider in order to find a new impulse for further development. Its unique geographical position makes Panama's role very important not only for the Latin American economy but also for that of the whole world.
Panama is frequently called 'Latin American Singapore' its economic development model being compared to the one that Singapore applied around thirty-five years ago. Many experts forecast the same level of prosperity for Panama in the near future.
Both Panama and Singapore are small countries with approximately equal populations even though the territory of Panama is ten times larger than that of Singapore. Panama City – the capital of the country – is a modern megalopolis with a vast number of skyscrapers and marvelous views of the ocean bay, just like Singapore. Panama has mild comfortable subequatorial climate and it is not susceptible to natural disasters such as tsunamis or hurricanes.
Another similarity between Panama and Singapore is the presence of hundreds of transnational companies in both countries. Panama's geographical position and the Panama Canal make the country as important a trade hub in Latin America as Singapore is in Asia.
The Canal is, of course, the primary national resource that Panama has. It brings the lion's share of income to the state budget and it is a precious asset for international trade companies too. After the extension works were completed there in 2016, the Canal began to make even more profit as it can put even more ships through now.
The high quality of healthcare, education reforms, and active fight against poverty are additional positive characteristics that Panama displays.
Besides, Panama is probably the safest country in Latin America. US visitors to Panama City claim in unison that the country capital feels safer than some North American cities.
Speaking about Singapore, many doors are 'almost closed' for foreign investors there already. For instance, it is practically impossible for a foreign national to obtain Singaporean citizenship these days unless he or she has tens of millions of dollars.
Acquiring residency in Panama, however, is still quite realistic. Of course, the country's popularity is growing as more and more people relocate to Panama and the word spreads around the globe. This means that soon these favorable conditions are going to change and thus the chance to acquire permanent residence in this country has to be taken ASAP.
Most of the immigration programs that are currently in effect in Panama have the status of Government decrees, not that of state laws. Thus, as soon as the Panamanian economy feels healthy and independent, the immigration incentives will be abolished and those wishing to reside in Panama will have to face much harder requirements.
If you want to obtain Panama residency and later (after five years) apply for a Panamanian passport, we highly recommend that you not lose any time and start preparing for emigration right now.
Panama's attractiveness for businesses
Panama has several special economic zones in the Canal region and in Panama City downtown. Such zones offer preferential taxation to their resident foreign businesses.
The American dollar is a legal currency in circulation in Panama. The 'free capital' principle allows investing and disinvesting any amounts of money.
One of the most attractive factor about Panama for international businesses is its territorial taxation system. All the profits obtained on the territory of the country are taxable in accordance with the Panama Tax Code. However, the income derived from international business operations is not taxed in Panama. This principle applies both to the citizens and to the legal residents of the country.
Panama is rightfully referred to as the financial center of Latin America. It has a very strong banking sector with nearly a hundred international banks having branch offices in Panama City and other locations in the country. Panamanian banks are known for higher levels of capitalization and liquidity compared to many banks stationed even in the economically developed countries. A corporate bank account in Panama will provide for an easy access to the international financial resources.
The Panamanian legislation provides for an effective protection of the interests, rights, property, and other assets belonging to the country's foreign residents. The same goes for the confidentiality of corporate information. Anyone who violates this confidentiality will face a heavy fine or even imprisonment. Besides, court decisions made in other jurisdictions in relation to Panama residents are disregarded in the Panamanian courts of law.
What are the advantages of investing into Panama real estate?
The popularity of the real estate with foreign investors keeps growing. After visiting Panama as tourists and seeing the way of life in the country, many foreigners want to come back again and purchase some property there.
The development of the tourist industry in the country affects the national real estate market. The prices for real property are gradually growing in Panama. Some of the factors contributing to the development of the tourist sector and the growth of real property prices are as follows:
Completion of many state infrastructure development project in the recent past. A large number of various conference halls and business centers have been constructed in Panama City lately. The capital hosts numerous youth conferences and international business forums with participants from all over the world.
The construction of the fourth bridge over the Panama Canal is to be completed in the near future.
A new marine terminal will be constructed that will service cruise liners by the end of 2019 or the beginning of 2020.
Such factors make Panama even more attractive for tourists, which leads to increase in prices not only for the tourist services but also for the real estate.
The growing tourist attractiveness of the country also affects hotel occupancy in Panama City. The booking prices are becoming higher while international corporations often rent hotel suites for their personnel. The price increase makes these corporations start thinking of purchasing their own residential accommodations instead of spending ever-growing amounts of money on suite rent.
However, "not by tourism alone lives Panama". On January 1, 2019 a new law "On Taxation of Family Property" came into effect. Experts suggest that his Law is able to lessen the real estate owners' property tax burden by as much as 50%. The old version of the Law set the worth of untaxable real property at US$ 30,000. Its new version has moved the threshold to US$ 120,000.
Panama does not live in the past. All the sectors of economy are looking for new possibilities and introducing modern technologies that appear in the world.
One of such technologies that is applicable in the real estate sector is the keyless access to residential accommodations. This trend is currently very popular in China, for example. A trinket, a smartphone, or a fingerprint can perform the function of the key to your house of apartment now.
Other high-tech solutions are also integrated into the new building construction process. For example, the demand is growing for the so-called 'automated homes' or 'smart homes'. Such electronic systems allow remote control of all the house utilities and resources, which helps optimize their consumption.
An apartment in Bella Vista district, Panama City
Our on-site representatives in Panama select the best offers of real estate for our clients. We invite you to consider purchasing an apartment in Bella Vista district of Panama City.
"Bella Vista" translates into English as "Beautiful View". This district is located on a hill behind Balboa Avenue and Uruguay Street, and the views it gives of the Cinta Costera Park and the 4-kilometer (3-mile) coastline are beautiful indeed.
The famous skyscraper previously called Trump Ocean Club in the Punta Pacifica district (the building has been renamed to Bahia Grand Panama in 2018) and the Pacific entrance to the Panama Canal are also visible from this district on the hill.
The total area of the apartment is 256 square meters (306 sq. yards).
It has three bedrooms.
3.5 bathrooms.
A living room.
A house cleaner's room with a separate bathroom.
Two parking lots are reserved for the apartment residents.
The apartment has no furniture with the exception of the kitchen equipment including a refrigerator.
The asking price of the apartment is US$ 485,000.
How can you obtain Panama residence?
In order to acquire permanent residence in Panama you have to make use of one of the country's immigration programs.
Foreign Investor visa program
This immigration program is also called Economic Investor program. It requires that a foreign national invest US$ 300,000 or more into the Panamanian economy thus acquiring the right of abode in the country. There is more than one way to make this investment and purchasing real property is one of them.
You can find detailed information about the Foreign Investor visa program by clicking here.
Pensionado visa program
Even though the name of this immigration program suggests that it is meant for pensioners, any person older than 18 from any country of the world can apply for a visa on this program. The essential condition is that the applicant has to provide ironclad proof to the Panamanian authorities that he or she has a guaranteed steady income of at least US$ 1,000 per month.
A vast number of US and Canadian retirees are already enjoying the opportunity to spend their golden years in a country where the cost of living is much lower and the climate is much better than in their home countries.
Please follow this link to learn more about this inviting immigration program.
Friendly Nations visa program
If you are lucky to be a citizen of one of fifty national states that Panama authorities find especially friendly to their country, relocating is going to be very easy for you. The procedure of applying for a Friendly Nations visa takes the smallest amount of time possible, and the investment conditions are quite lax.
By following this link, you can find out what countries are included in the Friendly Nations list and learn more about this immigration program.
If we have managed to arouse your interest in moving to Panama and acquiring Panama permanent residence permit, please apply for a free consultation on this issue that we will gladly provide to you.
Please mind, however, that today it is impossible to become a tax resident in a foreign country formally or nominally. The international financial authorities do their best to combat money laundering and tax evasion techniques that some people still hope to be able to use. As 'transparency' requirements are strengthening and 'offshore' zones are actively fought against, you will have to establish some serious economic substance in Panama in order to become a tax resident of this country.
But if you do, you will find that Panama is friendly to all foreigners, not only to the fifty nations referred to above. You will also find that the sandy beaches of Panama and its tropical nature are simply fantastic. Finally, you will find that doing business in Panama is safe, comfortable, and lucrative.
Purchasing some real estate in this country you will not only obtain a place to live with your family or stay for a while but also a piece of property that has high liquidity. (Which means you can sell it at a profit after a few years.)
Please write to us to info@offshore-pro.info without hesitation and ask us any questions about Panama. We have an office in Panama City and our Panamanian lawyers and real estate agents will give you the most trustworthy information about immigrating to Panama, buying property there, acquiring permanent residence or any other issue related to Panama in some way. We will be happy to provide high quality services to you.