Investment into Panamanian real estate is a chance to optimize your tax residency
If you would like to change your domicile, investing into Panama real estate will be the right decision. Apart from the possibility to acquire residence permit in Panama, such investment will let you strengthen your tax policy and thus receive higher profits from your business activities.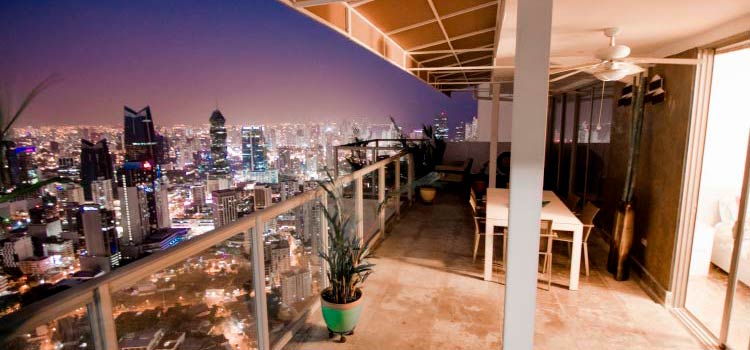 Why acquire tax residency in Panama?
Especially if you are engaged in some kind of international business, you should consider relocating your company to Panama. Income and capital gain taxes are quite high in most European countries and paying two thirds of your profit in taxes can be annoying. The US government, in its turn, keeps an eye on its citizens' earnings and it wants its share wherever these earnings are obtained from. If your legal residence is in California, for example, you will have to pay a 13.3% income tax to the state budget even if you make money in another American state or elsewhere in the world.
At the same time, there are countries on this planet that let their citizens and foreign tax residents keep a considerably larger portion of their earnings to themselves. Panama is one of the most attractive countries in this respect, if not the most attractive one.
The living standards to be found in Panama today are comparable to the high living standards that Western Europeans and North Americans are used to. You do not have to take our word for it: visiting Panama as a tourist and seeing everything with your own eyes is easy. It takes between three and five hours to get to Panama City from the United States by plane. Flying there from Europe takes a bit longer, but the flight time is nothing unthinkable anyway.
However, Panama continues to qualify as a developing country. Even though it has been developing quite rapidly over the last few years, it still needs financial inflows to facilitate its economic growth. For this reason, the Panamanian Government creates some favorable tax conditions in order to attract foreign capital to the country.
What is important is that Panama is in keeping with all the international financial regulations. It follows the OECD principles and the CRS requirements. It is not an offshore country anymore as it has been taken off all the 'black' and 'grey' lists that the world financial authorities have for jurisdictions trying to attract capital too aggressively and in unfair ways. Thus, Panama offers preferential taxation to foreign businesses while remaining sufficiently transparent for the international tax authorities. This fact makes it especially lucrative to have your company registered in Panama. There you will find new niches for your international business, have your assets effectively protected, and enjoy the various beauties of Panama's gorgeous tropical nature.
Benefits that Panama offers to its legal foreign residents
Below please find an incomplete list of reasons why you should consider moving to Panama. Please mind, however, that to establish tax residency in the country you have to acquire a legal residence permit first. This, in its turn, requires obtaining some economic interests in Panama, or in other words, building some economic substance there.
Panama has longstanding and sturdy relationships with the USA. The US dollar is the main currency in Panama. Even though a national currency does exist (the balboa), it is practically out of use in the country.
Unlike in some European countries, the political situation in Panama is stable today.
The Panama GDP has been steadily growing during the last two decades or so.
The 'free capital' principle is in effect in Panama, which means that there are no restrictions whatsoever as to investment and disinvestment of capital.
It takes only a few working days to register a business company with the authorities in Panama. If you do international business from this country, all you have to pay is US$ 300 a year as a state duty. You do not have to obtain any licenses or permits to start international business activities in Panama. Establishing a business company in the country will serve as a legal ground for acquiring residency there.
Even though Panama is not an offshore jurisdiction, it exercises the territorial principle of taxation. Citizens and residents of Panama are only taxable on the incomes they make within the geographical borders of the country. All incomes derived from international business deals are not subject to taxes in Panama.
The banking sector is very strong in the country. About one hundred international banks, including the most renowned ones, have branch offices in Panama. The capitalization of the Panamanian banks is so high that the interest they pay on deposits can be as high as 8% a year.
Two factors make Panama especially inviting for international trade and manufacturing companies. One is the famous Panama Canal and the other is the availability of Free Trade Zones in the country with preferential taxation regimes.
The strict Panamanian laws effectively protect private and corporate property of both natives and legal foreign residents. Penalties for violations of these laws are rather severe. Infringement upon private property or corporate secrets will lead to a serious fine or even imprisonment.
Panama is considered the safest country in Latin America. The crime rates are low for serious offences.
Summer in Panama lasts all the year round. Yet, it is never too hot there and if you want an eternal spring rather than summer, you can find an abode higher in the mountains where the weather is cooler.
God keeps Panama from such natural disasters as hurricanes, tornados, or tsunamis. It is always calm there.
There are dozens and dozens of exotic tropical beaches on both coast in Panama: the Atlantic and the Pacific ones.
Foreign people are permitted to purchase any type of real property in Panama including land that is privately owned.
Panamanian real estate has high liquidity and it is valued in the international market.
The modern infrastructure in Panama City signals high living standards in the country. There is a subway, numerous highways and road interchanges, broadband Internet connection, total Wi-Fi coverage, and what not.
Panama offers a life style of a very high level at a very affordable price, which is rarely to be found in other countries on the planet.
The Panamanian medical services and healthcare are among the best in both Americas.
Ways to obtain residency in Panama
The Republic of Panama warmly welcomes foreign investments and in exchange it offers its residency to people from other countries. The Panamanian Government has implemented a number of different immigration programs and you can use one of them to acquire residence in this country. Let us briefly describe three most appealing of such programs.
Generally, the program applicant will have to show to the Panamanian authorities that he or she has made some investment into the country's economy, that is, purchased a piece of real property in Panama or opened a bank account in the National Bank or both.
Economic Investor immigration program
This visa program is available to any adult person from any country of the world. The main requirement this program has is the obligation to bring US$ 300,000 or more to Panama. There are three basic ways to make this investment:
Put at least US$ 300,000 in the bank. This will have to be a fixed-term account for three years.
Buy real property in Panama that costs at least US$ 300,000.
Use a combination of the bank account and property purchase. The total sum you invest must be, again, at least US$ 300,000.
The foreign Economic Investor will be granted permanent residence permit after doing one of the three things described above. After he or she has lived in Panama for five years, he or she is eligible to apply for full citizenship in this country.
Please find more about this immigration program by clicking here.
Pensionado immigration program
Even though the name of this program suggests that it is intended for pensioners, actually, any person older than 18 from any country of the world can apply. The essential requirement that this program has is that the applicant be able to prove having a steady guaranteed subvention of minimum US$ 1,000 per month. A normal Western European or a North American pension will constitute such a subvention, hence the name of the program.
This immigration program has an important variation. If you purchase real estate in Panama for US$ 100,000 or more, you will have to prove that your guaranteed monthly income comes up to US$ 750.
Please find more about this immigration program by following this link.
Friendly Nations immigration program
This program will not suit everybody. However, it is especially attractive for the citizens of fifty countries of the world that Panama thinks of as its friendly nations. Generally, all well developed countries are on this list. Their citizens can acquire the easiest access to Panama and the amount of investment they are supposed to bring is as small as it can only be.
Please find the list of the fifty Friendly Nations and additional information about this immigration program by following this link.
It must be especially noted that Panama legislation does not specify the necessary period of time that a foreign resident must physically spend in the country in order to retain his or her permanent resident status. The '183 days a year' rule applies in the vast majority of countries that grant permanent residence permits to foreigners but it does not apply in Panama. Most Panamanian lawyers agree that paying a seven-day visit to the country once every two years will suffice for retaining the permit.
A medium-size penthouse in San Francisco district, Panama City
Purchase of real estate in Panama will provide for the most solid grounds to apply for legal and then tax residence in the country. Thus, if you have decided to immigrate to Panama, finding a piece of property to buy there is the first thing to do.
The penthouse we invite you to consider is located in San Francisco district of Panama City. This is an elite district in the eastern part of the city bordering on Punta Pacifica district. A combination of high-rise condominiums and large mansions is to be found in San Francisco.
All the necessary facilities and entertainments are within walking distance in this district. Sitting right on the border of the two city districts mentioned above, there is one of the largest trade centers in Panama City called "Multi Plaza". Balboa Avenue and the "Omar" Park are very close to the place. The Park used to be a golf course before but now it is the best place for relaxed evening strolls.
Within a five-minute walk from the penthouse location you can find the John Hopkins Medical Center, the best known such center in the country. There are also two supermarkets, cinemas, and restaurants in San Francisco. In close proximity runs the Corredor Sur, a major transportation vein in Panama City. Following the Sur, you can quickly get to both the airport and the "Old City" in the downtown area.
San Francisco is safer and calmer in comparison to other Panama City districts. There is much less urban noise there and for this reason the district is thought to be the best one to buy family residence in. Those who are after night entertainments usually go to the neighboring districts of Marbella, Casco Viejo or Amador Causeway.
Penthouse (JUNIOR)
The total area of the penthouse is 333 square meters (398 sq. yards). There are:
Three bedrooms with a separate bathroom for each of them.
A living room.
A child's room adjacent to the master bedroom.
A large kitchen dining room.
A guest bathroom.
Two balconies.
Parking for two cars in the parking lot below.
The penthouse is well furnished and equipped with all the necessary home appliances.
The asking price of the penthouse is US$ 1,150,000.
We recommend that you apply for a free consultation with our specialists before you start packing your things to move to Panama. Our real estate agents stationed in this country will help you choose the most suitable house or apartment in Panama. Please do not hesitate to write to us to info@offshore-pro.info and ask us any questions you may have about relocating to Panama.