Anonymous UnionPay multi-currency offshore debit card – EUR 659
We finally have multi-currency no name (anonymous) cards on offer. Union Pay is issued by a payment service provider in Philippines.
What is an anonymous or "no name" card?
Anonymous cards offers a higher level of privacy, because there is no name printed on the card. This doesn't mean that the card issuer doesn't know who the card is issued to, since KYC is required. But shops, merchants, ATMs etc will not know the cardholder's identity since there is no name printed on the card, nor stored on the chip nor the magnetic strip.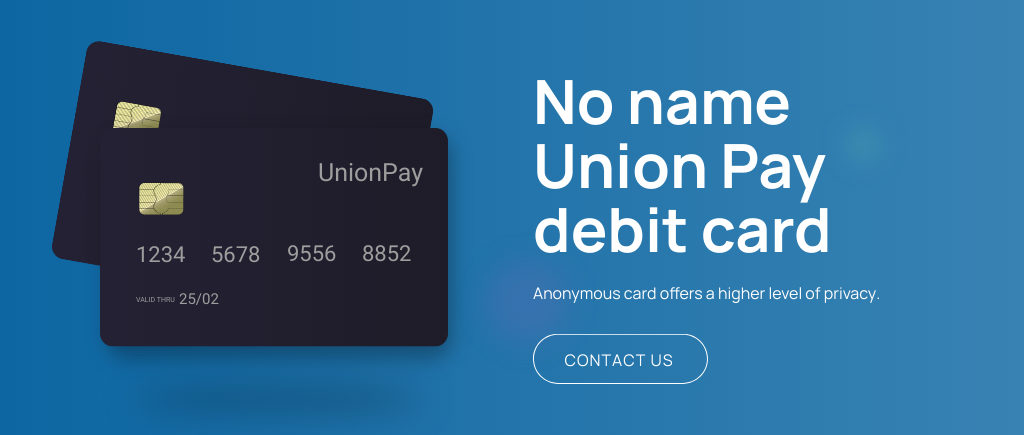 How does this anonymous no name card work?
The card belongs to you and your e-wallet account with a payment service provider in Philippines (regulated by Philippines SEC)
The payment providers do not share your confidential financial information with the outside world.
Your purchases will have a high level of confidentiality and privacy.
No name card is the most affordable way to maintain a high level of confidentiality of personal data. In other cases privacy requires more costly solutions like funds, trusts, foreign bank accounts, second citizenship and tax residence optimization etc. IMPORTANT: depending on your country of citizenship you may still be required to declare this card. Be sure to check this locally where you live so you are not breaking any laws!
How can you use Union Pay no name card?
You can use an anonymous card as any other debit card – load it, withdraw cash oat ATMs, pay online and purchase in stores.
This prepaid card uses Chip and PIN technology (no contactless)
This card is truly multi-currency: you can load and hold balances in different currencies: US Dollar, Euro, RMB and Philippine peso.
You will always withdraw cash in local currency, depending on where you are located. If a currency conversion is necessary, the conversion fee is as low as 1% per transaction.
Important: the card is accepted at merchants and ATMs displaying "UnionPay" logos. These cards are accepted in most, but not all, countries: around 180 countries at the moment. You can find country-by-country information on acceptance networks at the UnionPay site.
Please note that these cards do protect your privacy up to a certain degree, but it is a responsibility of each and every person to declare their income, pay the appropriate taxes and not violate the law.
Union Pay no name card fees and limits
Transaction Currency: Multi Currency
Loading Currency: USD / EURO/ RMB / Peso
In order to load a card you need to transfer your funds to your payment service provider in the Philippines via bank transfer. You can then withdraw your funds in local currency worldwide.
Card Limits in USD
Max Ticket Size: $ 2,000
Max Monthly Volume: $ 35,000
Max hour count: 2 times per hour
Max day count: 5 times per day
Max Card Load per day: $10,000
Max Card Load per month: $50,000
Card to Card: $2,000 per transfer
Max POS Transaction: $20,000 per day
ATM – Withdrawal fixed fee $4.15
ATM – Balance Enquiry $4.15
POS – $1.50
Reload Card – $3.00 or 1%, whichever is higher
Conversion fee (from wallet currency to another currency) is as low as 1% !
Card to Card Transfer – $7.00
Monthly Fee – $3.00
Replacement plastic (lost cards etc) – $40
All cards are active upon first loading. You will be given access to a portal where you can keep track of your balance and transactions.
How to get this card? Explained in 6 steps:
High-quality copy of your passport.
Proof of the address, like utility bill (has to be the same address from your passport, with your name too)
The following information is needed so we can invoice you:
The payment method you prefer: crypto or bank transfer. (Sorry, due to regulations we cannot accept credit card payments for this product)
Choose the currency – EUR or USD
Send us your full name
The address for card delivery (it does not have to be your home address).
Your personal data is required for payment service provider in Philippines and is also required by the law. However, as it is already explained, any transactions you make in your country or anywhere else will remain highly confidential.
Pay for the service – the cost of one card is 659 EUR.
Delivery – 95 EUR.
After we receive the payment and a complete set of documents, we will send your application to the payment service provider in Philippines
After registration is approved, you will receive a link to your own profile in the system and get online access to it. We will also provide you by e-mail with detailed instructions on how to fund your account and a card.
A card with a sealed PIN-code will be sent to your address by courier (delivery worldwide is available and free of charge).
All cards are active upon first loading.
For more information please contact us at info@offshore-pro.info