Purchase of real property in light of acquiring permanent residence in Panama
Owning a piece of real estate in Panama is not only a chance to acquire legal residence and a second citizenship there but also a secure international investment. Panama offers a comfortable business environment together with perfect conditions for permanent residence.
Panama: the best second home you can find
If you are looking to change your domicile in 2019 or acquire a second residency and a second passport, you should certainly consider such an attractive country as Panama in Central America.
Panama offers a number of immigration programs and you are bound to find the one that lives up to you preferences and your budget. We would like to note from the very beginning, though, that these immigration programs are not going to live forever, as they are simply government decrees that do not have the status of national laws.
Panama's economy is developing faster than most other national economies in the world. One day the Government will grow satisfied with the amount of foreign capital in the country and introduce some stricter immigration regulations.
Currently, Panama still seeks to attract foreign investors and offers several variants of acquiring its legal permanent residence in exchange for investment. It is rather easy now to relocate to Panama but with time, the country's authorities are going to become more selective in granting residency to foreigners.
Panama's international prestige is growing as its economy is improving year after year. The demand for real property in the country is growing too and so are the prices. We hope you understand what we are hinting at… There is not too much time to waste!
The nature and the culture of Panama
The Republic of Panama is found on a narrow neck of land between the two Americas. Some people will refer to this country and the 51st state of the USA.
This may be true in respect to certain aspects but not all of them. There is as much political and economic freedom in Panama as there is in the US; the dollar is in free circulation in the country; the living standards are as high in Panama as they are in the United States; and there are other similarities as well.
It cannot be denied that Panama has experienced major influence of its powerful northern neighbor. The Panama Canal was under American administration until 1999 and there are a large number of US citizens still living in Panama. Among many other positive consequences of the American presence in Panama is the fact that Panamanians are used to having foreigners around them. Locals are generally very friendly to the visitors to their country.
At the same time, Panamanian lifestyle differs greatly from that of North Americans. What is typical of probably all southern nations is their calmness and lightheartedness. They are never in a hurry; they do not usually fuss over little things.
Panamanians are notorious for being quite poor at keeping appointments that they have made. Not turning up on the set time (or not turning up at all) is not a big deal for them, nothing to really worry about. It is their mentality and people from other cultures coming to Panama could do nothing to change it. You may get angry and aggravated at the local habits but you may also learn to accept the way of life that is different form the one you are used to.
Those who have been dreaming to live by the sea will find Panama a paradise on earth. Few countries boast such fantastic and exotic tropical nature as Panama does. Panama is a seafaring country placed between two oceans: the Atlantic on one side and the Pacific on the other one.
Panama is also famous for hundreds and hundreds of islands near both of its coasts. Some of the islands are large and have significant populations, others are smaller with only a few people living on them, while still others are tiny and uninhabited.
There is a vast choice of beaches in Panama on both sides. It will be interesting to note that Panama is the only country where you can swim in the Atlantic and the Pacific Oceans on the same day.
The climate in Panama lowlands (on the coasts) is subequatorial. This means that it is quite hot there in the dry season and quite humid in the wet one. In the mountains, however, that run through the middle of the isthmus the weather is considerably cooler than that on the coasts. While it feels like eternal summer in the lowlands, the weather remains spring-like in the mountain areas all the year round. Another positive fact about Panama climate is that the country is hardly ever hit by tornados or tsunami waves. It can be quite windy at certain times in certain places but nothing to really blow you away.
If you like lying on sunny beaches, swimming in warm turquoise water, and enjoying wonderful natural sceneries, Panama is certainly the place to be for you.
The attractiveness of Panama for business people
Today the capital of Panama is a modern vibrant cosmopolitan city with elegant skyscrapers, advanced infrastructure, and good roads.
Panama is not a third-word country any longer as some may suggest. Many leading economies do not demonstrate such a rapid and stable growth as Panama has been showing over the last 15 years.
The largest single source of income to the national budget is, of course, the Panama Canal. It generates the lion's share of the net profit that the Government of Panama collects.
There is also a Free Trade Zone at the Atlantic entrance to the Canal. There are a great number of foreign marine, trade, and logistics companies residing in this Zone. Being registered on its territory, these companies receive some weighty tax incentives. There are several Free Trade Zones in Panama.
The second largest portion of state income comes from Panamanian banking sector. Thousands of foreign companies and foundations dealing in international business are registered in Panama every year.
Even though Panama is a rather small country, it has become a large financial center in Latin America. There are over a hundred international banks in the country and many transnational companies and wealthy individuals from all over the world keep their money in these banks.
Some people will still think of Panama as an offshore jurisdiction but this thinking is plainly wrong. The country does tax its citizens and foreign residents in accordance with the Tax Code. What makes this jurisdiction attractive for international businesses, however, is the fact Panama does not tax the incomes obtained from business operations abroad. It applies the so-called 'territorial taxation principle' when only the incomes made on the territory of the country are taxable.
Panama also boasts the highest living standards in Central America. Of course, very much depends on where you choose to live in Panama. Most Panamanians live in the capital city and most foreigners prefer to reside in Panama City as well or some other large (by the local standards) Panamanian cities on the Pacific coast. These places have good infrastructure and all other amenities typical of large cities anywhere else in the world.
Some remote areas such as the Caribbean coast, for example, are not so well developed and the quality of life there is a bit lower. This is compensated, however, by a lower cost of living in these districts.
Obtaining the right of permanent abode in Panama
Panama beats other states welcoming immigrants by the number of immigration programs that it offers to foreign nationals.
There are dozens of such programs allowing the applicants to obtain a permanent residence permit in Panama. Let us list four most popular of such programs here. The first two programs are universal meaning that they are accessible for people from all countries of the world. You can read more about each program if you click on the corresponding links.
Economic Investor program. This immigration program allows acquiring residency in Panama in exchange for the investment of US$ 300,000 into the country's economy. You can buy real property in Panama worth as much or more or simply put the money in the bank for three years. Both the property and the money will remain yours. That is to say, you will not be paying three hundred thousand for Panamanian residency.
Business Investor program. This immigration program allows acquiring residence in Panama in exchange for the investment of US$ 160,000 into business in the country. Anyone with an entrepreneurial spirit is welcome to establish a company in Panama or purchase an existing business company there. In addition to investing the sum specified above (or more), you are supposed to provide employment for five native Panamanians. These two factors will make you qualified for residency in Panama.
Both if these immigration programs will give you the temporary resident status over the first two years, and you can obtain your permanent residence permit afterwards. After five years of holding this permit, you are entitled to apply for citizenship of the Republic of Panama.
The following two immigration programs are not universal as only certain groups of people are eligible to apply to them.
Pensionado program. This immigration program does not require any flat investment. The applicant shall be able to show to the immigration authorities that he or she has a steady monthly income of US$ 1,000. However, if the applicant buys real property in Panama that is worth US$ 100,000 or more, his or her guaranteed lifetime income shall amount to only US$ 750 per month. Retired persons from North America and Western Europe will have no trouble proving to Panama immigration authorities that they do have sufficient incomes. (This may appear not true, however, for citizens of soft-currency countries.)
Friendly Nations program. This immigration program will suit only the citizens of top fifty world states that the Government of Panama lists as its Friendly Nations. The applicant to this program shall have US$ 5,000 in an authorized bank in Panama and either engage in some economic activities in the country or purchase real estate that is worth US$ 100,000 or more. Fulfilling these two requirements will make him or her entitled to a permanent residence permit in Panama.
As you can see, most of these immigration programs have the purchase of real estate as a convenient option. When you own some property in Panama, the procedure of acquiring the permanent resident status is not difficult nor very lengthy. What is characteristic of Panama is the absence of any set terms of physical presence in the country necessary for retaining the permanent residence permit. The absolute majority of Panamanian lawyers agree that it will suffice to come to Panama for a week or so once every two years and you can keep your residence permit.
Real estate in Punta Pacifica district of Panama City
Punta Pacifica is very popular with foreign residents in Panama City. There are eighteen skyscrapers in this district where you can buy or rent top-quality accommodations.
Punta Pacifica district surrounded by tropical vegetation and sitting far away from the city noise is probably the most attractive investment location not only in Panama but also in the whole of Latin America.
There is a vast choice of restaurants there serving dishes of various national cuisines, trade centers, sports facilities, and everything else that is needed for a comfortable living and enjoyable recreation.
Lot №1
The apartments we invite you to consider are located in a complex of multi-story buildings on the Pacific shore. This residential estate sits close to the oceanfront promenade that stretches over several miles. It is very popular with local residents who love strolling, jogging, roller-skating, or biking there.
On the premises of the estate, you will find shops, cafes, restaurants, beauty salons, SPA salons, swimming pools, and a five-star hotel. The whole territory is under security surveillance day and night.
The two-bedroom apartments have:
Two bedrooms
Two and a half bathrooms.
A living area with a balcony and a panoramic view of the ocean.
The price also includes a parking lot for one car.
The total area of such an apartment is 153 square meters (1,647 sq. ft.). The price is US$ 550,000.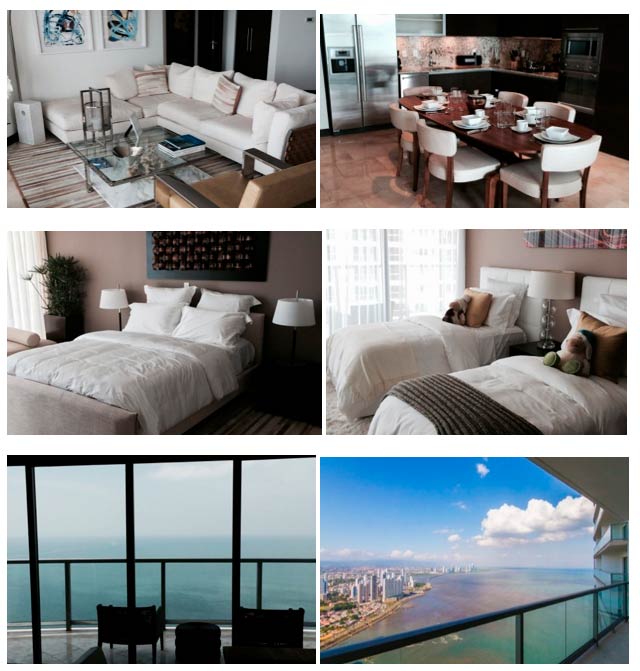 Lot №2
Apartments of 287 square meters (3,089 sq. ft.) in size have:
Living and rest area.
Three bedrooms.
Three and a half bathrooms.
A housemaid's room with a separate bathroom.
The price includes parking lots for two cars in the underground car park.
The price is US$ 735,000.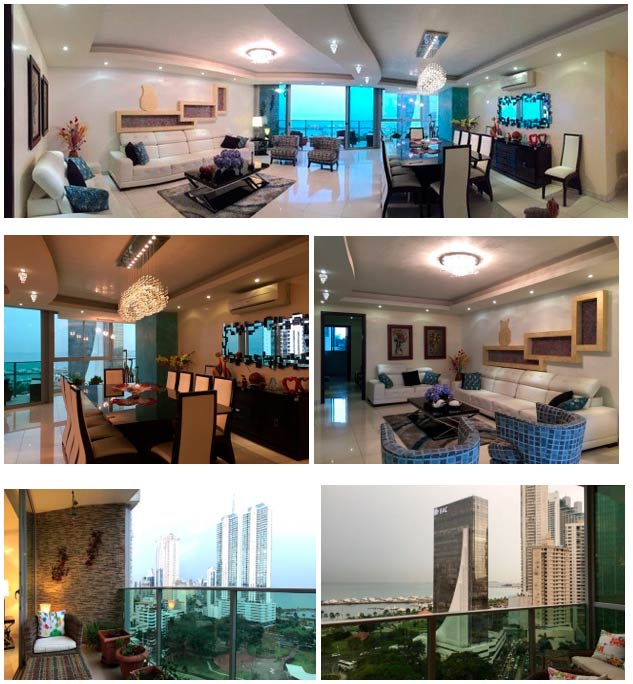 Lot №3
A luxury two-story penthouse that gives a fantastic view of the Gulf of Panama in the Pacific Ocean.
The total are of the penthouse is 605 square meters (6,512 sq. ft.). It has:
A large family/ living area.
Three bedrooms.
A study.
Three and a half bathrooms.
Four balconies.
A spacious cloakroom.
A storage room.
A laundry room.
A housemaid's room with a separate bathroom.
The price is US$ 1,700,000.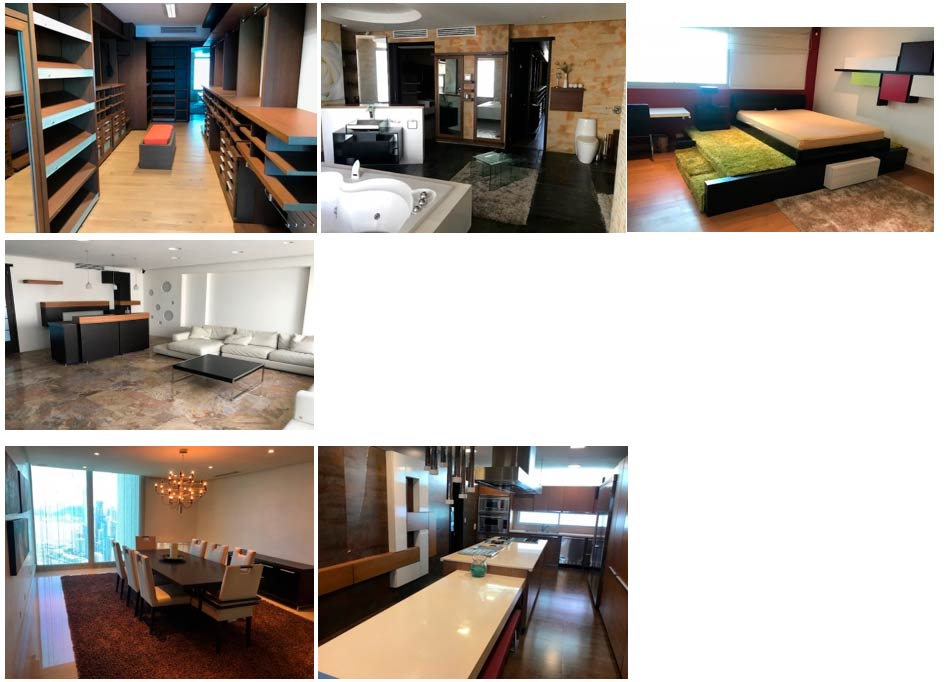 Lot №4
Splendid apartments with the windows opening onto the Pacific Ocean (sold without furniture). Each has:
The total area of 256 square meters (2,755 sq. ft.).
Three bedrooms.
A living area.
Three bathrooms.
A housemaid's room with a separate bathroom.
Two parking lots.
The price is US$ 485,000.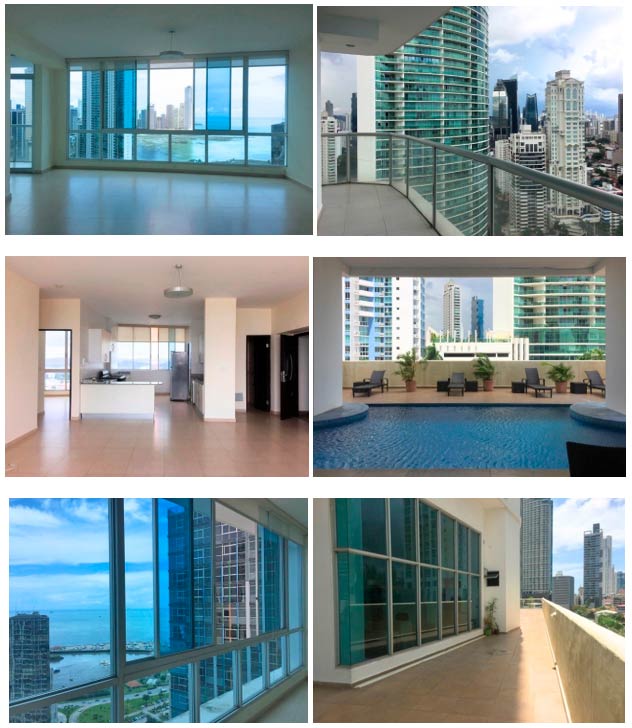 Lot №5
Residential apartments in the center of Punta Pacifica. Their total areas vary and can be between 344 and 851 square meters (3,703 and 9,160 sq. ft.). There are:
3 or 4 bedrooms.
4 or 5 bathrooms.
Lux concierge and other services.
The prices start at US$ 1,362,000.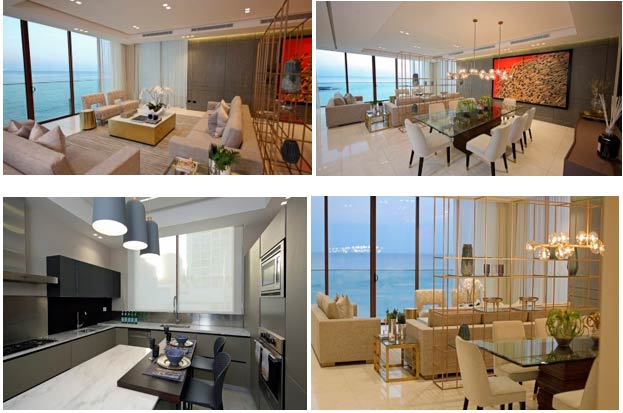 Here we have only mentioned a few immigration programs out of several dozen available. The apartments that we have presented are also only a few of so many apartments and houses for sale in Panama City. Besides, you can only see the pictures here while there is a possibility to go on a familiarization tour to Panama with us! Please do apply for this service of ours to see the country and the property there with your own eyes.
In case you are curious to learn more about Panama, we will be happy to answer your questions. Please write to us to [email protected] and we will do our best to be of assistance to you. You can also acquire a better idea of how realistic it is for you to relocate to Panama if you make use of our free consultation service and answer several questions.
We have real estate agents living in Panama City who are fluent in English. We also cooperate with good lawyers in Panama who will help you make a safe purchase deal and file an application for residency in Panama. Our vast experience will make your relocation to Panama quite possible. We are looking forward to your mail!