Purchase a villa in Buenaventura resort and become a Panama resident
Investing into real estate abroad is not only an effective method of assets diversification but also a way to acquire residence permit in a foreign country. We would like you to consider Panama as a second residence country because this jurisdiction will open wide perspectives to you.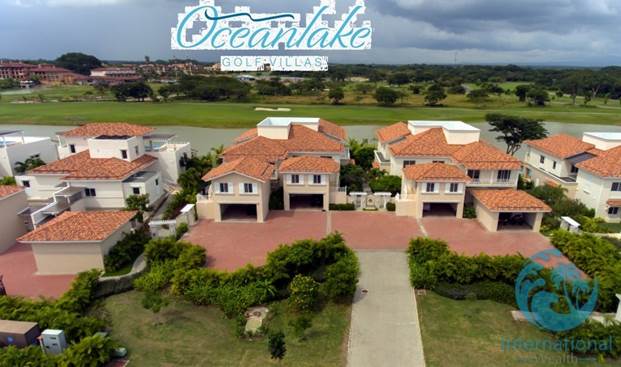 Buenaventura resort: one of the best places on the Pacific coast
Buenaventura resort is a private beach community occupying the area of around 8,000 square meters (9,500 sq. yards). The residents there receive top-class services around-the-clock.
The resort is located in the central province of Panama called Cocle, in particular, in Buenaventura settlement 10 kilometers (6 miles) from a small town Rio Hato. Even though the town is rather small, it has an international airport. The capital of the country – Panama City – is within a ninety-minute drive from Buenaventura on Pan-American Highway.
The full name of the place is «The Buenaventura Golf & Beach Resort». The best in Panama 18-hole golf course is found here often hosting international golf tournaments. This is a truly unique area with outstanding geographical characteristics and fantastic views.
The Buenaventura resort is broken into eight separate living quarters that differ in architectural styles and natural landscapes. The resort is currently expanding and construction work continues in some quarters.
A five-star hotel in the center of the resort has luxury suites that it offers to tourists coming to Panama from all over the world and all the year round. Encircling the hotel, there are comfortable villas on the ocean shore. The resort administration lists some of these villas for sale, and here we would like to draw your attention to one of the offers that they have.
Ocean Lake quarter
This living quarter consists of 36 two-story VIP-class villas located opposite the fifth hole of the golf course. A famous architect Edward McGrath is the designer of the villas and they are built in the Spanish hacienda style.
The villa for sale has the total area of 624 square meters (746 sq. yards). This includes:
Four bedrooms.
A spare room that can be turned into one more bedroom.
4.5 bathrooms.
House cleaner's room.
A living room.
A swimming pool in the courtyard.
Two covered parking lots.
A terrace and a barbecue area.
The villa is equipped with kitchen machinery and air conditioning. There are king-size beds in three of the bedrooms and a huge double bed in the fourth bedroom. The villa is located close to the sandy beach as wellas all the facilities that the Buenaventura resort boasts such as multiple restaurants, SPA salons, fitness centers and so on.
You are welcome to inquire about the price of the property or ask any questions about Panama residence by writing to info@offshore-pro.info. We offer only the best and existent pieces of real estate that you can not only look at but purchase as well.
Why Panama wins over other countries offering residence to foreign nationals
Unlike some other countries, Panama welcomes purchase of land and real property by foreigners. The Panamanian legislation protects foreign owners' rights as effectively as it protects the rights of native owners. The only restriction that exists is the prohibition to buy property located closer than ten miles to the Costa Rican and the Columbian borders.
There are acts of terrorism, racial hatred, political unrests, and economic crises in other parts of the world. Panama, on the other hand, is a calm and safe country and so buying an accommodation there will provide for a comfortable living for you and your family.
One of the major factors that attract wealthy foreign investors and international business people to Panama is its taxation policy.
Neither Panamanian citizens nor permanent foreign residents account for, or pay taxes on, the income they receive outside the country.
This "territorial" taxation policy has been in effect in Panama for quite a number of years now, and it has proved to be efficient. It has vastly contributed to the growth of Panama GDP that has been consistent at 6% annually for the last twenty years or so. Few countries of the world are as successful as Panama at keeping their growth (if any) so stable.
Speaking about the property tax in particular, the new Law passed early in 2019 establishes zero property tax on the real estate worth up to US$ 120,000. This is a clear indication of the fact that Panama wants foreign investments as the worth of untaxable property was previously set at US$ 30,000.
A few other factors also need to be mentioned here:
The US dollar is the major currency in circulation in Panama. The balboa is the official currency of the country but it is seldom used and when it is, its exchange rate to the dollar is 1:1.
A super strong banking sector in Panama will give its residents access to the world financial resources.
Rigorous corporate legislation and the real freedom of capital in the country allows doing business peacefully in Panama investing and disinvesting capital in any amounts without trouble.
The Panamanian laws effectively protect the rights of the country's foreign residents. Judges in Panama disregard any court decisions taken by foreign courts in relation to Panama residents.
Panama has been recognized as the safest country in the whole of Latin America.
Business people who have visited Panama at least once will confirm that this country is attractive both in terms of residing there and in terms of doing business. The Panama of today offers to the immigrants the same amenities and entertainments as wealthy western countries do.
However, the same quality comes at a much lower price in Panama.
The country is also known for the high level of healthcare services provided there. The vast majority of Panamanian doctors studied medicine in the United States.
The climate and the nature in Panama deserve special attention. It always feels like spring or summer in this country, and there you will find a large number of sandy beaches and multiple islands with gorgeous tropical flora and endemic fauna.
Another important factor that makes Panama advantageous in comparison to other tropical and subtropical countries is almost total lack of natural disasters there. Hurricanes, tornados, or tsunamis hardly ever fall upon Panama. Its geographical position keeps the country from their occurrences.
Those who would like to move to Panama have a wide range of immigration programs to choose from. Many such programs will ultimately lead to full Panamanian citizenship. However, a foreign national in Panama has to hold a permanent residence permit for five years before he or she can apply for citizenship.
As far as the cost of acquiring residence in Panama is concerned, you will be pleasantly surprised to learn how little investment is actually needed to relocate to Panama.
Panamanian immigration programs giving easy access to the country
Of several dozen immigration programs available to foreigners in Panama, we will mention three most popular ones here.
The "Economic Investor" visa program is aimed at attracting medium-size foreign investments to the country. Anyone who invests minimum US$ 300,000 into Panamanian economy is eligible for permanent residence in Panama. The investment shall be made in the name of the primary program applicant even though his or her family members are also eligible for residence permits.
The money can be invested in three different ways:
By putting US$ 300,000 or more into a three-year fixed-term bank account.
By purchasing real estate in Panama that is worth US$ 300,000 or more.
By combining the two aforementioned actions: opening a bank account and buying a piece of property. The total amount of investment shall come to US$ 300,000 or more.
The real estate purchased with the purpose of applying for residence in Panama shall be registered in the name of the primary program applicant. It cannot be registered in the name of a private foundation, a business company, or any other legal entity.
You can learn more about the Economic Investor immigration program if you click here.
The "Pensionado" visa program
The name of this immigration program speaks for itself: it is aimed at attracting foreign pensioners to Panama. The essential requirement to the program applicant is his or her ability to demonstrate a source of guaranteed monthly income of at least US$ 1,000. This is a tempting proposition indeed for the retirees who come from countries that have hard currencies. A combination of several reasons makes applying for this immigration program worthwhile for many people. First, one thousand dollars will easily see you through the month in Panama. As a matter of fact, this sum is more than enough to get by in this country. Thus, if it is a married couple applying for a Pensionado visa, their combined stable income shall come to US$ 1,000 per month.
Second, monthly allowances to pensioners in Western European and North American countries are normally higher than US$ 1,000. Thus, a retiree from these countries can live a totally carefree life in Panama.
Finally, Europeans and especially North Americans will have no trouble at all proving to the Panamanian immigration authorities that they have a guaranteed monthly pension. The officers in the government agencies are very much familiar with the US and Canadian social security systems and some European ones as well. A great number of pensioners from the United States in particular have been enjoying all the benefits of the Pensionado program for years now.
This said, citizens of any country are eligible for this immigration program provided that they can prove a guaranteed inalienable income of US$ 1,000 a month.
On top of that, the monthly income requirement will be reduced to US$ 750 on the condition that the Pensionado program applicant buys a piece of real estate in Panama that is worth US$ 100,000 or more. This is because if you have a place to stay in the country, US$ 750 a month is enough to live on.
You can learn more about this immigration program if you follow this link.
The "Friendly Nations" visa program
Unlike the immigration programs described above, this one will not suit everybody. It is aimed at providing the easiest excess to Panama for the citizens of fifty national states most friendly to the country. These are the states that actively cooperate with Panama in the economic, political, and cultural spheres.
Citizens of fifty Friendly Nations will have to go through the simplest application procedure. In terms of investment, they are required to put only US$ 5,000 into a Panamanian bank account. In addition to that they shall be engaged in business activities (open a company in Panama), or professional activities (find an employment in the country) or otherwise buy real estate worth not less than US$ 100,000.
In case you come from one of the fifty Panama's friendly nations, this is the immigration program you should consider in the first place.
You can find the list of the nations and more information about this visa program by following this link.
There is one more important factor that makes Panama different from other countries providing residence to foreigners. The required period of time that a foreigner must spend in Panama in order to qualify for permanent residence is not specified in the Panamanian legislation.
This means that you can acquire a Panama permanent residence permit even without permanently living in the country.
At the same time, if you are planning to apply for Panamanian citizenship in the future, you will be well advised to visit the country often and stay there for extended periods of time during the five years that you hold the permanent residence permit.
Panama citizenship is not granted automatically to anyone who has been a resident of the country for five years.
This is just an opportunity that exists, but you will have to prove to the state authorities that over these years you have fully integrated into the Panama society and thus become a 'naturalized' Panamanian. You will have to show that you have economic and/ or personal interests in Panama, such as some tangible assets there, a business company you run, a bank account, or a Panamanian spouse and children. If citizenship is not granted to you on your first application, you can reapply next year.
The right time to buy property and obtain permanent residence in Panama in now!
Offshore Pro Group invites you to use this unique offer and purchase the luxury villa described above thus obtaining legal grounds to apply for residency in Panama. You should apply for our services for the following reason:
Our back office is located in Panama City.
Thus, our on-site experts will have the most reliable information about the real estate that you can purchase in Panama. They will physically check any piece of property you might be interested in buying and make sure that all the ownership documents are in good order.
The Panamanian real estate market is comparatively young. Consequently, the information about property in Panama is not very well structured so far. Sometimes you will find a house or an apartment for sale in Panama on the Internet, but on a closer inspection, it may turn out that the property has already been sold, or is incorrectly described, or has an inadequate price tag.
We will gladly assist you in finding a nice house or apartment in Panama of the quality equal to that of residence accommodations in Europe or the USA. At the same time, you will see that the price of housing is considerably lower in Panama than in the first-world countries.
You should apply for our services straight away for the following reason:
The enticing Panamanian immigration programs will not be available forever.
The investment visa programs do not have the status of laws in Panama. They serve as immigration incentives that help attract foreign capital to Panama – a country that still classifies as a developing economy. One day the Government will inevitably find that some of the immigration programs are not necessary any longer and thus renounce them.
Therefore, if you want to live in a country with a perfect climate and eventually acquire a second passport and beneficial tax residence, Panama is welcoming you.
We suggest that you apply for a free consultation with us on moving to Panama by sending a request to info@offshore-pro.info. We will be happy to answer all your questions concerning purchasing property in Panama, acquiring a permanent resident status there, or any other issues related to relocating to this beautiful Central American country.