Ownership of real estate in Panama opens the way to acquiring residency in the country
If you are thinking of changing your tax residence, buying some real property in Panama would pave the way for you to acquiring legal and tax residence in this Latin American country.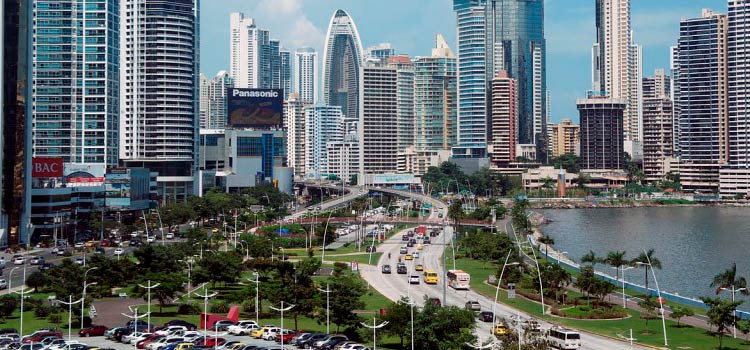 Why you should think about changing your tax residence
Over the last few years, more and more wealthy businesspersons are starting to think about redomiciliation, that is, changing their legal residence for taxation purposes. Western European countries are notorious for their high taxes, and these keep on rising in some of them such as Portugal, for example. The US citizens are taxed wherever they make money, within the USA borders or outside. Naturally, they do not feel that they ought to pay taxes to the US federal budget when they earn an income in a foreign jurisdiction.
At the same time, there are countries on this planet that need foreign investments to accelerate their economic development. Thus, they offer some inviting conditions to entice more well-to-do foreigners into investing in their economies. These conditions include preferential taxation regimes and the possibility to obtain residence permit and then citizenship in exchange for investments.
International asset diversification
The truth is that no country is immune to economic and/ or political crises in the modern world. Think, for instance, of all the troubles that the Brexit initiative is causing in Great Britain, a country that has always been among the most stable ones. Civil unrests and protest demonstrations occur in the EU countries on a regular basis. Donald Trump presidency is making many Americans worried about their country's future.
In such circumstances, relocating at least some of your assets to some calmer and more predictable parts of the world should definitely look like a good idea. Today asset diversification is probably the wisest business strategy that medium-size and large companies can rely upon. Panama is one of the countries that open extremely wide perspectives to foreign businesses.
By becoming a resident of Panama, you can fulfill all your business plans without worrying that your national government can take away a large share of your profits in the form of taxes or expropriations.
If you really want to be confident doing business in the international markets, if you want your assets well protected, then changing your tax residence to the Panamanian one is the best choice.
Before you can acquire a tax residency in Panama, however, you have to become a legal resident of the country. To open a bank account, for example, it is not enough to 'imitate' residency by providing a nominal address and fake utility bills to the bank. It does not work this way anymore anywhere in the world.
This is the reason why you should start planning your actions that will lead to obtaining Panama tax residence without delay. Leaving your home country and moving to another part of the world may be a hard decision to make but you should become accustomed to thinking that soon you are going to relocate to Panama and live there.
Main advantages of living in Panama
"Why Panama?" you may wonder. The answer to this question is going to be rather long as there are several compelling reasons to move to this country.
Panama offers numerous exotic beaches on both of its coast – the Atlantic and the Pacific. Off these coasts, you will find hundreds of wonderful islands with untouched tropical flora and endemic fauna. The climate in Panama is nearly perfect: it feels like spring or summer there all the year round.
Panama follows the territorial taxation principle. This means that its citizens and residents pay taxes only on the incomes made on the territory of Panama. All incomes derived by physical and legal entities from abroad are tax-exempt in Panama.
Free circulation of the US dollar, total freedom of capital, and the presence of nearly 100 international banks in Panama – these factors give businessmen access to the lavishes of the world financial resources.
Another important characteristic of Panama is its strategic geographical position. The Panama Canal is vital for the world trade and it brings considerably more money to the Panama national budget than any other source of income. Besides, there are Free Trade Zones in Panama where resident companies enjoy preferential taxation regimes. Establishing a business company in the country is fast and simple.
The EU experts admit that the Panamanian Government has made serious effort to adapt the country's legislation to the European standards of 'transparency'. Currently, Panama is not included in any 'black' or 'grey' lists of counties the international financial authorities are not happy with. Panama is not considered an 'offshore' jurisdiction with an aggressive tax policy.
Foreign private property is legally protected as effectively in Panama as the property of its native people. In addition to that, Panamanian courts of law disregard all decision made by foreign judges in relation to Panama's citizens and legal residents.
A number of Panama immigration programs will give the foreign resident the right to apply for citizenship after five years of residence in Panama. The Panamanian passport allows visa-free visits to 119 countries of the world including Great Britain, the EU and the Schengen zone countries.
Despite the fact that remote provinces in Panama still need some infrastructure improvement, the country is developing at an amazing pace. The GDP has been demonstrating a stable growth of 5.5 – 6% a year for about two decades. The infrastructure is very good in the capital of the country – Panama City – and its suburbs. Two thirds of the entire Panama population live in the greater Panama City area. A number of international airports can be found in the central province of the country as well as a subway, total Wi-Fi coverage and broadband Internet connection.
The healthcare system and the medical services provided in Panama are considered among the best in Latin America as they meet the highest international standards. Many people from the United States, Canada, and other countries visit Panama as 'medical tourists', that is, with the purpose of obtaining medical treatment. They are attracted by high-quality medical attendance that comes at a much lower price in Panama in comparison to their home countries.
The real estate market is booming in Panama. Construction works go on without an end and the Panamanian real property is in high demand with foreign and home investors. Property in this country has high liquidity and can bring up to 7% – 10% as return on investment a year.
Panama real estate: an investment asset that allows legal residency in the country
We invite you to consider purchasing an apartment in Villa del Mar residential estate to be found at the intersection of Uruguay Street and Balboa Avenue in Panama City. Villa del Mar is located in the downtown area of the capital city, 3 kilometers (less than 2 miles) from the "Old City", which is the colonial center of the city.
Villa del Mar is a high-rise building of thirty-one stories, of which twenty-four have multiple room and single bedroom apartments. It sits next to the "Urraca" Park, close to the Panama City financial district, the central hospital, and a number of entertainment facilities. Only 500 meters (less than 550 yards) away you will find a number of restaurants serving different national dishes. Villa del Mar condominium boasts the following facilities and conveniences:
A rest and socialization area on the roof with swimming pools for adults and kids as well as workout equipment.
A five-deck car park.
Three high-speed elevators accessible from the lobby.
An independent back-up electricity generator.
A back-up water reservoir with a pump.
Automatic fire alarms in all apartments.
Round-the-clock security surveillance.
Concierge service.
The apartment in Villa del Mar
Investing into Villa del Mar condominium, you will obtain an exceptionally comfortable place to stay in the very heart of Panama City.
The total are of the apartment is 108.6 square meters (129.9 sq. yards).
There is one bedroom.
A living room.
A dining room.
Two bathrooms.
A kitchen with all the necessary kitchen equipment and a nice breakfast bar.
A balcony with a partial view of the Panama Bay and the Pacific Ocean.
The apartment has double-pane windows that provide for a high degree of thermo- and noise insulation.
The apartment also boasts stylish furniture, modern lights, lovely curtains and various home appliances. The current price of the apartment is US$ 260,000.
Panamanian immigration programs
In order to apply for a residence permit after you purchase a house or an apartment you have to hire a Panamanian lawyer. The country legislation requires that the lawyer act as your representative when dealing with the state agencies.
The Government of Panama is interested in attracting foreign capital to the country, and this is why it has implemented a number of visa programs. What is important is that you do not have to speak Spanish to be eligible for permanent residence in Panama.
One requirement is typical of all Panama immigration programs: the prospective resident must provide proof of his or her economic solvency. The authorities have to see that the program applicant is able to sustain him or herself and their family while in Panama.
We would like to draw your attention to three Panamanian immigration programs that will look especially promising to a large number of people from different countries. Time will come when the Panama Government is content with the amount of foreign investments to the country and then some of the immigration programs will be dismantled. Thus, these opportunities should be used while they exist.
The Economic Investor visa
The Economic Investor visa program requires that a foreign applicant invest minimum US$ 300,000 into the Panamanian economy. There are three different ways to make the investment:
By opening a fixed-term deposit for three years in the National Bank of Panama. The minimal deposit amount is US$ 300,000.
By purchasing real estate in Panama that is worth at least US$ 300,000.
By purchasing real estate worth less than US$ 300,000 and putting the remaining part of the required sum in the bank.
Thus, you can buy the apartment we have presented here and put US$ 40,000 into a bank account and bingo! You are qualified to apply for permanent residence in Panama.
You can read more about the Economic Investor immigration program here.
The Pensionado visa
The Pensionado visa program requires that the prospective resident be able to demonstrate a stable source of income that amounts to at least US$ 1,000 a month. This initiative was launched more than thirty years ago to attract the US pensioners to Panama in the first place. The program has proved a huge success as a large number of Americans and a considerable number of Canadians do use the benefits that the Pensionado visa brings.
There is one more option available with this immigration program. If you buy a piece of real property in Panama that is worth at least US$ 100,000, you will have to show that your monthly income comes up to US$ 750 only. This sum of money is surely enough to live on in Panama.
Even though the Pensionado visa program is aimed primarily at US and Canada retirees, citizens of any country over the age of 18 are eligible to apply for a Pensionado visa provided that they can prove their stable monthly income.
If you follow this link, you can learn more about this immigration program.
Friendly Nations visa
There are fifty national states that Panama favors more than others. These are the countries that are especially close to Panama in terms of economic relations, political values, and cultural ties. Citizens of the fifty friendly nations can immigrate to Panama under preferential conditions. They enjoy the simplest application procedure and the most relaxed investment requirements.
You can find the list of the Friendly Nations and learn about this visa program in more detail if you follow this link.
Each of the immigration programs described above will entitle you to permanent residence permit in Panama. However, you do not have to actually live in the country in order to retain the permit. Spending a week or so there once every two years will suffice for that.
If you obtain permanent residence in Panama by use of any of these programs, after five years you become eligible to apply for full citizenship of the country.
Panamanian citizenship is not granted by default to anyone who has lived in the country for five years. Each applicant is considered individually by the immigration authorities. You can acquire full citizenship if you are able to demonstrate that you have established significant economic and/ or personal interests in Panama.
But then again, you do not have to obtain Panamanian citizenship even though you can. It is also possible to prolong your permanent residence permit in case you continue owning the property.
If you are seriously considering relocating to Panama, we suggest that you apply for a free consultation with us first. Please contact us via e-mail info@offshore-pro.info and we will gladly answer all your queries about moving to Panama.