The Latest Updates on the Antiguan Citizenship for Money
Experts recommend everyone who wish to acquire a second passport and obtain the cheapest citizenship for money in 2020 to take advantage of the offer by Antigua and Barbuda. Starting from April 1, 2020, the full cost per applicant will grow by USD 5,000.
Antigua and Barbuda is an island nation located in the eastern Caribbean. This jurisdiction is a member of the British Commonwealth of Nations, the United Nations, the Organization of American States, the Caribbean Community (CARICOM) and many other international organizations.
Citizens of Antigua and Barbuda enjoy travelling without a visa to more than fifteen dozen countries, including Western, Central and Eastern Europe, Hong Kong and Singapore. And what is important, it is possible to obtain an Antiguan passport by applying for citizenship for money. There are three options for investing your money: a non-refundable contribution to the National Development Fund (NDF), the purchase of government-approved real estate and investments into business.
Learn more: Antigua Economic Citizenship
Antiguan citizenship can be granted to a successful applicant in about four to six months. You do not necessarily have to speak English (the official language of this Caribbean country), be interviewed or visit Antigua and Barbuda before acquiring citizenship. After obtaining citizenship, you are required to visit Antigua and Barbuda and stay there for 5 days within the first 5 years, so as not to lose your passport. The entire process of obtaining citizenship is completely confidential.
Earlier in April, the InternationalWealth.info portal informed you, citing local media, about the impending changes to the terms of the Antiguan citizenship by investment program.
In less than two weeks after that, the authorities of this Caribbean country in the person of the Citizenship by Investment Unit published an official memo on the amendments to the rules, dated March 9, 2020.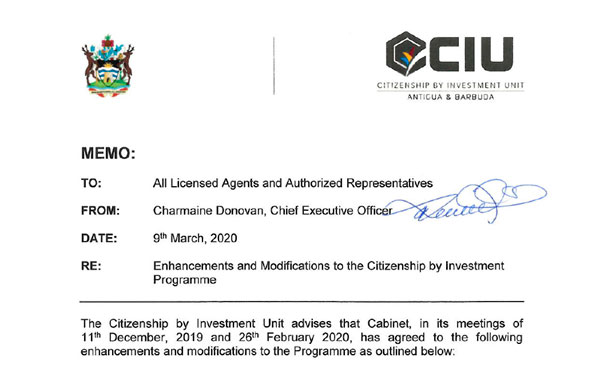 The memo states that the local Government agreed at its meetings on December 11, 2019, and February 26, 2020, to make a number of improvements and changes to the terms of the program, as outlined below:
The minimum amount of (repayable) investment in citizenship (for real estate) was preserved at USD 400,000. But the rules were amended with a permanent stipulation on the possibility of submitting a joint application by two or more investors, each of whom invests at least USD 200,000, given that the total amount will be from USD 400,000.
From now on, it is officially allowed to resell real estate and shares of development projects previously acquired by applicants under the program, after the five (5) year period of their compulsory ownership expires, if the buyers are new participants of the program who can now use such investments as acceptable ones. Property and/or shares can only be resold once under the program;
Increase of the citizenship application fee for the NDF contribution from USD 25,000 to USD 30,000 (for a single applicant or family of 2 to 4), effective April 1, 2020;
Reduction of the citizenship application fee for the property citizenship and business investment citizenship from USD 50,000 to USD 30,000 (for a single applicant or family of 2 to 4), effective April 1, 2020;
A third way of applying for property citizenship was established, when the total purchase price of an asset must be at least USD 200,000 (USD 540,000 East Caribbean dollars), effective April 1, 2020
Developers with existing stock of assets that can be sold at this price could use this opportunity.
New developers whose assets must first be assessed in terms of being suitable for this opportunity may apply for being appointed as an approved development project;
The list of countries whose citizens have no right to apply of the Antigua citizenship by investment was amended by removing Iraq from it. Effective April 1, 2020.
The following requirement was abolished: that persons born in countries whose citizens cannot apply for citizenship for money in Antigua could become eligible for the program if they had legal permanent residency of the United States of America, Canada, the United Kingdom, Australia, New York, Saudi Arabia and the United Arab Emirates. Thus, applicants residing permanently in any country except for the blacklisted states can now apply for the program. Effective April 1, 2020. All other terms and conditions remain unchanged.
Exploring the possibility of CIU receiving applications for "golden passports" from stateless persons. In particular, from persons originating from Brunei, Saudi Arabia, Kuwait and the United Arab Emirates. This list is subject to review and may be extended or amended as and when needed.
Thus, if you are going to apply for citizenship for contribution, the terms were improved. On the other hand, if you want to apply for citizenship by investment in real estate in Antigua and Barbuda, then, on the contrary, it makes sense to wait. If you are interested in this option, we recommend you studying the information on how to buy property in Antigua and Barbuda, and what projects are offered by local developers.

According to official statistics, over 3,000 investors with families became citizens of Antigua and Barbuda from the moment the program was launched.
Do you wish to know more about citizenship by investment in Antigua and Barbuda and other ways of obtaining "golden passports" available in the Caribbean? Get access to fresh news, useful articles and other content by subscribing to our newsletter.
You also have an opportunity to sign up for a free consultation. All you need to do is send us your request to info@offshore-pro.info. Should you have any questions regarding specific immigration solutions, please feel free to contact our experts.