A pearl in Panama commercial property market: offices in Times Square Center
On a par with residential accommodations, office spaces in Panama enjoy great demand with foreign investors as they also make valuable assets. You can purchase an office in Times Square Center tower and use it as your business office or let it on a lease otherwise.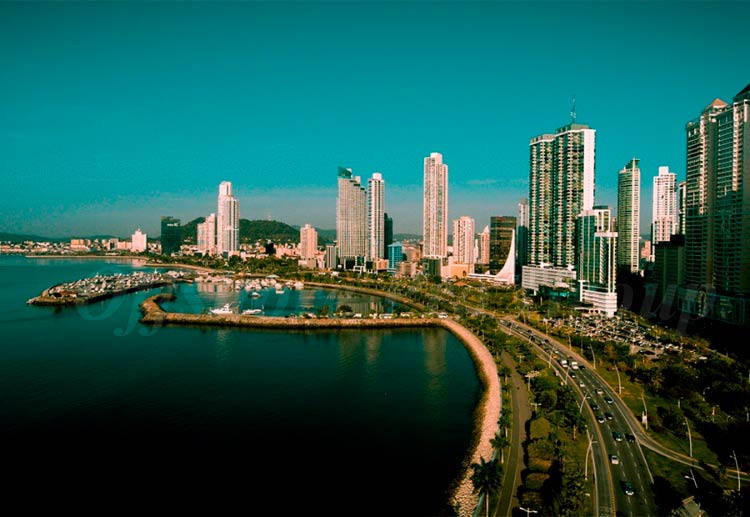 Panama: a leading country in Central America
In Central America Panama is the number one country in terms of economic growth. It is also the most attractive country to invest into in the region.
Apart from that, Panama is the safest Latin American country to live in and it offers the best choice of real property, both residential and commercial.
Panama is also a world financial center, the largest in Latin America.
Panama laws provide for the simplicity of establishing a business corporation in the country and the Free Trade Zones offer preferential taxation to their resident companies. These factors attract foreign entrepreneurs to Panama and many of them ultimately cast anchor in this country.
The fact that Panama is the main recipient of direct foreign investments (DFI) in the region is indicative of its investment attractiveness.
The DFI stimulate Panama economy and strengthen such spheres as construction, telecommunications, export, and others as well as create more jobs in the country.
The Government of Panama does everything it can to maintain the positive business environment and attract more investments. The infrastructure is being actively developed, laws are passed that effectively protect foreigners' rights and property in Panama, and the qualifications of the service personnel are constantly improved. The choice of real estate available in Panama will satisfy even the most demanding customer.
Panamanian legislation serves to incentivize foreign businesses to come to the country by providing a wide spectrum of opportunities to engage in international commerce or service industry in Panama.
There are no limitations as to the investor's citizenship or nationality. There are also no restrictions concerning the volume of the capital brought to Panama or taken out of it. Currencies are easily converted in the country and dividends and royalties are effortlessly transferred to and from Panama.
Panama investment incentives
Panama is a country that is especially convenient to do international business from. Here are some stimulating characteristics that Panama has:
The country has a strategic geographical location.
The United States dollar is an official currency in Panama, which guarantees the absence of currency conversion costs.
The incomes that Panama citizens and legal foreign residents receive from abroad are not subject to taxation in the country. This includes foreign royalties, interests, dividends, and all other sorts of payments.
Offshore banking operations, foreign loans and interests that come to current or savings accounts in Panama banks are not subject to income taxes in the country.
Over one hundred banks make up the banking sector in Panama. They conduct transactions in all national currencies. The financial assets of Panamanian bank clients are protected by strict rules and the principle of confidentiality of personal financial information. There is no Central Bank in Panama, which stimulates the free flow of capital between different countries via Panama.
The Law of Panama №32 "On Corporations" sets very flexible rules pertaining to such aspects as the number of shareholders and directors, their citizenship and residence location, the purpose of the corporation, the amount of the registered capital, the types of stock that the corporation may issue, and other things.
The Law of Panama №25 "On Private Foundations" provides for strict confidentiality of personal information, which allows effectively planning your payments of taxes. The Law describes precisely how the assets and the responsibilities can be divided, which discounts the possibility of any conflicts arising when it comes to inheritance rights. This Law also allows effective management of the Foundation by a Trust and a Board of Directors that may be composed of minimum one legal entity or minimum three physical entities (private individuals).
Investments into Panama real estate
The prospering economy of Panama and the growing middle class make investing into the country's real property very lucrative. Panama real estate is the safest object of investment in the country. Buying property in Panama, you will increase your family assets.
When you own a piece of real estate in Panama, you can resell it, rent it out, live or stay there with your family, or use it as an office for your business company in Panama. In addition, your property will let you become socially secure in the country. Investing into Panamanian real estate has the following advantages:
Panama real estate is a secure investment instrument that will bring profit in the long-term perspective.
This is a safe way to preserve your personal capital and diversify your assets.
This is an instrument of acquiring a permanent residence permit in Panama and a second citizenship.
Panama real estate market is cyclical as it is in any other country in the world. Prices rise and fall and these fluctuations depend on a number of factors. It will periodically be a 'buyer's market' or a 'seller's market'. There will also be times when the real estate market is balanced.
At the current stage, Panama real estate market is on the buyer's side. When the demand for real property in Panama was very high between 2006 and 2013, the construction companies were erecting more and more new buildings without thinking too much about the future. This has led to the situation when the supply of real property is considerably higher than the demand for it, as things stand for now.
According to the latest data, the prices of real estate have dropped by a quarter in some districts of Panama City. Some experts believe that the prices will remain at this low level until mid-2020. Others say the prices are going to be stable for two or three years.
Meanwhile, the current prices for both resale property and for the newly constructed property are attractive. We would like to suggest that you consider purchasing some new real estate as the Panamanian legislation keeps buildings property tax free for several years after construction completion.
Today the conditions are favorable for those investors who want to buy real property in Panama. The market situation will give you a good chance to gain the upper hand in the negotiations with the property seller.
If you would like to use this lucky chance and purchase a piece of real estate in Panama, you are welcome to contact us via e-mail: info@offshore-pro.info. Our managers living in Panama City will provide qualified assistance to you in choosing and buying immovable property in the country.
For those who want to see the property with their own eyes before buying it we have introduced a new service. You can go on a familiarization tour to Panama with us and look at a large variety of residential and commercial property in different price categories and in different locations in Panama.
Here we would like to present some commercial property located in one of prestigious districts of Panama capital.
Panama real estate: the best offices in Panama City in Times Square Center tower
Times Square Center office building is built by a well-known constriction company that has five more construction projects in Panama City currently going on.
The Times Square Center skyscraper, over 1,100 meters (3,680 feet) high, sits in Costa del Sol Street, in Costa del Este district of Panama City. This means that this building is located 5 minutes away from the financial center of Panamanian capital on foot, and 15 minutes away from Tocumen international airport by car.
Costa del Este district in Panama City is one of the most attractive locations in the capital. Ultramodern skyscrapers, luxury restaurants, and high-class stores are to be found in this district.
A special international atmosphere, broad streets and convenient sidewalks with palm trees growing on the sides give this place a tropical charm. Visitors to Panama often compare this district to Miami.
Panama real estate: building description
The main entrance and the lobbies on each floor have luxurious avant-garde-style interior decorations. Six high-speed elevators are in operation. Office owners and their guests can use a five-level car park and there is an underground area with vehicle sheds. All the areas are equipped with fire detection systems and fire-extinguishing sprinklers.
Apart from the offices and the parking, there is a gym, and SPA salon, and a cafeteria in the buildings. There are also surveillance cameras, round-the-clock security including guards at the entrance who will check all the visitors. All offices are air-conditioned.
Panama real estate: description of the offices
– 100 ft and – 200 levels
Underground vehicle sheds.
100 ft to 500 ft levels
Five levels of the car park.
First floor
Eight offices 240 m2 (2,583 ft2) each, 4 parking spaces (PS's) reserved.
Offices of 364 m2 (3,918 ft2) + 6 PS's.
Offices of 308 m2 (3,315 ft2) + 6 PS's.
Mezzanine
Eight offices 110 m2 (1,184 ft2) each + 2 PS's.
600 ft and 700 ft levels
Nine duplex (two-level) offices of 200 (2,152), 309 (3,326), 313 (3,369) and 317 (3,412) square meters (square feet) + 6 PS's.
800 ft to 1,900 levels (seven offices)
Office А – 103 m2 (1,108 ft2) + 2 PS's.
Office B – 92 m2 (990 ft2) + 2 PS's.
Office С – 138 m2 (1,485 ft2) + 2 PS's.
Office D – 112 m2 (1,205 ft2) + 2 PS's.
Office Е – 156 m2 (1,679 ft2) + 3 PS's.
Office F – 94 m2 (1,011 ft2) + 2 PS's.
Office G – 100 m2 (1,076 ft2) + 2 PS's.
2,000 ft to 2,500 ft levels – four offices on each floor
Office А – 201 m2 (2,163 ft2) + 3 PS's.
Office B – 180 m2 (1,937 ft2) + 3 PS's.
Office С – 209 m2 (2,249 ft2) + 4 PS's.
Office D – 197 m2 (2,120 ft2) + 3 PS's.
2,600 ft to 2,900 ft levels – two offices on each floor
Office А – 412 m2 (4,434 ft2) + 7 PS's.
Office B – 438 m2 (4,714 ft2) + 7 PS's.
3,000 ft to 3,600 levels – one office on each floor
The office area is 862 m2 (9,278 ft2) + 15 PS's.
3,700 ft to 3,800 ft level
A two-level office of 1,116 square meters (12,012 square feet) and an open terrace of 298 square meters (3,207 square feet) + 20 PS's.
The construction of the Times Square Center building is almost completed. You can buy an office at a reduced price before the skyscraper is fully built.
For example, the price of a 92 m2 office in Times Square Center is US$ 271,200. At the current moment, offices of any size are available. You can also buy out the whole floor.
Panama immigration programs for foreign nationals
As we have noted more than once, the foreigners' rights are as well protected in Panama as those of native Panamanians. Purchase of real property by a foreign national does not require any Government permission.
The only thing that is prohibited to foreigners is buying property closer than 10 miles (16 kilometers) to the national borders.
Apart from that, ownership of a piece of Property in Panama does not entail any necessity to live in the country. On the contrary, it gives the right to obtain permanent Panamanian residence.
There are several 'immigration for investment' programs that the Government of Panama has put into place. We will be happy to provide a free consultation to you so that you can choose the most suitable immigration program. Here are four most popular such programs:
Panama "Economic Investor" visa program
This is a universal immigration program in the sense that anyone can apply. The visa providing for a temporary and then permanent resident status is granted on the condition that the Economic Investor program applicant invests minimum US$ 300,000 into the Panamanian economy. You can do it by purchasing real estate that is worth at least as much or by putting the money in the bank for three years. You can also combine these two investment methods and spend part of the sum on buying the property while depositing the rest of it in an authorized bank. The principal requirement is that you should bring not less than US$ 300,000 to Panama.
More information about this Panama immigration program can be found here.
Panama "Business Investor" visa program
This immigration program is also available to citizens of all countries. The visa providing for a permanent resident status is granted on the condition that the Business Investor program applicant invests minimum US$ 160,000 into a business in Panama and hires five local people. You can establish a new company in the country or buy an existing business. The central requirement is that your total business investment should come to at least US$ 160,000. (Of course, you can invest more!)
You can find more information about this Panama immigration program here.
Panama "Pensionado" visa program
Again, this immigration program will suit everybody who is older than 18 years of age even notwithstanding the program name. The main condition is that the program applicant should be able to conclusively demonstrate to Panama immigration authorities that he or she has a guaranteed inalienable steady income of at least US$ 1,000 a month. A state pension will constitute such a guaranteed income, hence the name of the immigration program.
However, if you invest minimum US$ 100,000 into a residential accommodation in Panama, your stable monthly income will have to reach US$ 750 only.
Here you can read more about the Pensionado immigration program.
Panama "Friendly Nations" visa program
Unlike the immigration programs described above, this one is not for everyone. Only the citizens of fifty national states that Panama finds especially friendly are eligible to apply for a this type of visa. The list of such nations generally includes most European and (North and South) American countries. A couple of national states in other parts of the globe are also there.
This program certainly provides for the easiest access to Panama. It is also the fastest way to obtain a permanent residence permit in Panama. The bureaucratic procedures are minimal and the investment requirements are more relaxed in comparison to other immigration programs.
A Business Investor visa will entail some serious document accumulation, as you will have to conclusively prove to Panama authorities that you have indeed invested the required sum into business and hired five Panamanians providing them with social security and a guaranteed salary. A Friendly Nations visa will have much less red tape.
An Economic investor visa will give you a temporary residence status for the first two years. Only after two years expire can you obtain a permanent residence permit in Panama. With the Friendly Nations visa, the process of acquiring permanent residence in the country will take only three to four months.
Speaking about the required investment, it is also the smallest with the Friendly Nations immigration program. You have to put in the bank in Panama mere US$ 5,000.
However, this is not all that you have to do to become a legal resident in Panama with this visa. You also have to either engage in economic activities in the country (which in plain words means start a business or find a job in Panama) or purchase real estate that is worth not less than US$ 100,000. These are alternative options. If you buy property that costs as much or more, you will not have to prove to Panama immigration authorities that you have an employment or run a private business in the country.
You can read more about this immigration program here.
If you compare Panama immigration programs with those offered by other countries, you will find that relocating to Panama is much easier and much more affordable. Add to this the wonderful Panamanian climate and its beautiful tropical nature and you will want to move to Panama even more. Take notice of the fact that the cost of living in Panama City is at least twice lower than that in the capitals of well-developed countries while all the amenities of a modern megalopolis are readily available there, and you will not be able to resist the idea of moving to Panama.
If you want to diversify and protect your assets while simultaneously acquiring legal grounds for applying for residency in Panama, we will gladly help you make the right choice of property and of the immigration program as well. Please write to us to info@offshore-pro.info and we will assist you in every way we can.